The systems listed below are the recommended desktop computers. For assistance with selecting a model to meet your particular needs, contact a presales consultant (617-253-1101).
The models, configurations, and prices are subject to change based on manufacturer's availability.
In the listings below, the model name and price for each system are valid as of March 28, 2013.
For purchasing information, see Hardware Recommendations.
Apple
iMac 21.5"
eCAT price for personal purchase: $1368
To purchase: Go to the MIT Apple online catalog.
MIT personal certificate required.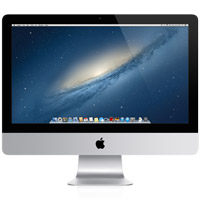 Specs
2.7GHz quad-core Intel Core i5 processor (Turbo Boost up to 3.2GHz) with 6MB L3 cache
1920-by-1080 resolution
8GB 1600MHz DDR3 SDRAM - (2x4GB)
1TB Serial ATA Drive @ 5400 rpm
NVIDIA GeForce GT 640M graphics processor with 512MB of GDDR5 memory
Optional external Superdrive
Four USB 3 ports
Two Thunderbolt port
SDXC card slot
Gigabit Ethernet / 802.11n WLAN
Mini DisplayPort output
FaceTime HD camera
Apple mouse
Apple keyboard with numeric keypad (English) and user's guide
Accessory kit
Mac OS X 10.8
Includes AppleCare extended 3 year limited warranty
Dell
Optiplex 7010
eCAT price for personal purchase: $970
To purchase: Go to the Dell online catalog. You will see the MIT configurations on the Dell page for personal purchases.
MIT personal certificate required.
Specs
i7-3770 (Quad Core, 3.40GHz, 8MB w/HD4000 Graphics)
8GB, NON-ECC, 1600MHZ DDR3,2DIMM
500GB 3.5" SATA 6Gb/s with 16MB DataBurst cache
16x DVD±RW drive
1GB AMD RADEON HD 7470,LP w/VGA
Dell MS111 USB optical mouse
Dell KB212-B USB 104 Quiet Key keyboard (English)
Up to 90% efficient power supply
Windows 7 Professional 64-bit
3 Year Basic Hardware Service with 3 Year NBD limited onsite service after remote diagnosis