Get with IT: IS&T Helps Incoming Students Learn About Computing Resources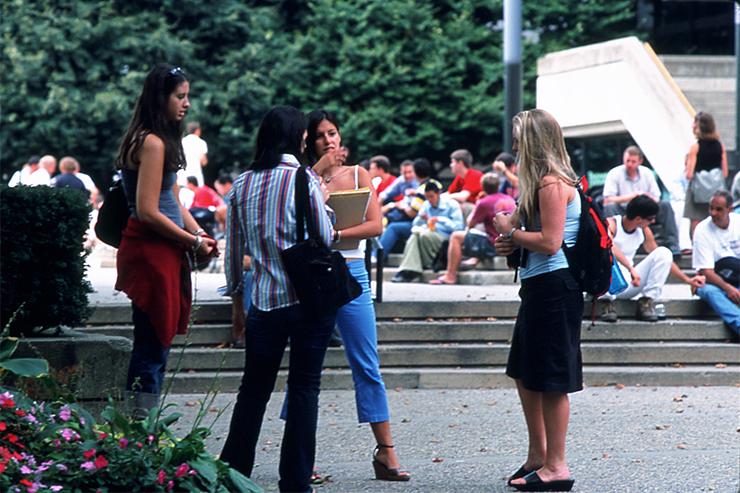 Orientation for incoming freshman is around the corner. The new kids on the block arrive on Sunday, August 26, and they'll sprint through a week of activities – from open houses, tours, and info sessions to picnics, mixers and even a Water War. Fortunately, there's a Hitchhiker's Guide [PDF] available on the MIT Class of 2016: Orientation Programs website and in a printed pocket version.
Behind the scenes, many MIT departments and service providers have been gearing up for Orientation. Information Services and Technology (IS&T) will host several sessions to help incoming students make the most of computing resources on campus.
Here's the round-up of IS&T sessions, along with other events IS&T will participate in. (IS&T also encourages incoming freshman to check out the department's Getting Started: New Students page).
• Academic Expo
Tuesday, August 28, 2:00 to 3:30 pm
Johnson Athletics Center, 1st Floor
• Computing at MIT: MITnet, IS&T, Athena and You!
Tuesday, August 28, 4:00 to 5:00 pm
Room 10-250
Repeat Session:
Thursday, August 30, 4:00 to 5:00 pm
Room 10-250
Bring your laptop, tablet, or other wi-fi device. Together we'll make sure you have a reliable, secure connection to MITnet. You'll learn about computing resources at MIT; printing; security tips and best practices; how to obtain free and discounted software; and how to get help. We'll also provide you with a brief introduction to Athena, MIT's campuswide Linux environment, which includes many useful services and lots of academic software. Learn how to find your way around the Athena environment, use Athena services on your personal computer, and access and manage your personal storage space and web space. We will also be raffling off some gift cards. 
• Computing at MIT: Casual Q&A
Thursday, August 30, 2:30 to 4:30 pm
W20 Lobby
Join us for an informal Q&A session in the Student Center. We encourage you to stop by for a few minutes to ask us any computer question that's been nagging you for the last few days, or join us for the whole hour to find out everything there is to know about using your computer on the MIT network, software and hardware resources that are available to MIT students, and recommendations about best practices and good citizenship on MITnet.
• Community Fair
Tuesday, September 4, 1:30 to 4:30 pm
Kresge Oval
• Athena & the Command Line
Wednesday, September 5, 7 to 8 pm
Room 4-237
Learn how to navigate using the command line, including file management commands and other common utilities. Learn about AFS permissions and locker software on Athena. Process management and input/output redirection will also be covered. Much of this class will be applicable to the command line on any operating system, including using the "Terminal" application on Mac OS X.
• Web Publishing on Athena
Thursday, September 6, 7 to 8 pm
Room 4-237
We'll cover what you can and can't do in your www/ directory on Athena, and how to get started with SIPB's scripts.mit.edu service. We won't cover writing a web page from scratch, but will cover some software packages you can use.
• Dotfiles and Shell Customizations
Friday, September 7, 7 to 8 pm
Room 4-237
Learn about "dotfiles" which can be used to control a lot of customizations on Athena. Learn how to customize your shell and the basics of shell scripting.
Questions?
If you have questions about IS&T's orientation sessions, send mail to freadiness@mit.edu. If you're new to campus and want to learn more about MIT's IT resources, check out IS&T's For Students page.