RoomWizards Bring Touch-Screen Scheduling to Meeting Rooms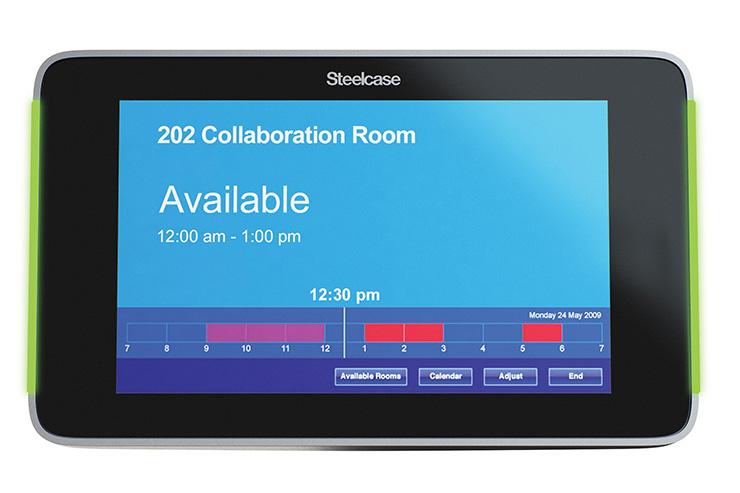 MIT, a haven for many geniuses, is now home to RoomWizards too. These web-based room schedulers from Steelcase have been spotted outside select meeting spaces in the MIT Libraries, CSAIL, the Sloan School, and IS&T.
With a RoomWizard in place, you can see from down the hall if a room is booked (red LEDs indicate that it's occupied; green LEDs mean it's available.) The touchscreen displays the name of the room and the current reservation by default, while a timeline shows blocks of free and reserved times. There's even a "Use Now" button to reserve the space on the spot.
According to Jon Hunt, the IS&T consultant who managed setting up a RoomWizard outside IS&T's Learning Center in E17, "People like to go right up to it and see what's going on."
Installation and Exchange Integration
RoomWizards at MIT typically connect to a network jack and get power through the Ethernet in the same way that MITvoip phones do. The contractor who installs the network jack can also install the RoomWizard – but whether this is done by a contractor or your DLC's IT staff, it's important that the unit be positioned so that it's ADA-compliant and accessible. The highest interaction point should be 48 inches, which is lower than what's specified in the instructions provided by Steelcase.
DLCs can decide whether to use RoomWizards as stand-alone devices or to integrate them with Microsoft Exchange. The staff who maintain Exchange services at MIT have a good working relationship with the RoomWizard group at Steelcase, so they've been able to implement some MIT-specific features, such as the MIT certificate authority. This means that RoomWizards accessible over the Web can be secured with certificates, just like a normal MIT web server.
In an Exchange environment, authorization for a RoomWizard depends on the resource set up for the calendar and the room. In IS&T, for example, anyone can reserve the Learning Center using the RoomWizard, but only members of IS&T's Site Team can accept the meeting, authorizing it to appear on the calendar.
People like the Exchange integration because if you're already at the room, you can reserve it right then and there – you don't have to pull out your laptop or go back to your desk. Using an Exchange-based RoomWizard meshes with a DLC's practices for scheduling rooms and doesn't require formal training.
RoomWizard II (and a Firmware Update)
Steelcase's current model, RoomWizard II, has a sleeker design than the original device: it features a flat glass front and a very thin metal bezel.
Technical note: IS&T staff member Oliver Thomas cautions that there's a critical bug in early versions of the RoomWizard II firmware. If your DLC has an early model of RoomWizard II, plan to update the firmware to version 4.0.5 or later. With earlier versions the unit may enter a state where it will not turn on, and only briefly flash a green LED on power-on or reset. Once in this state, the unit will need to be serviced by Steelcase. Firmware updates and support info can be found on the RoomWizard II Documentation page.
Cool Idea: Occupancy Sensor
The RoomWizard may boost its wizardry if one of Thomas's ideas catches on with the group at Steelcase. He thinks "It would be cool if the RoomWizard could be integrated with occupancy sensors, so that a room automatically gets freed up in RoomWizard if it's not being used. That's not something RoomWizard can do out of the box, but that's where a lot of its potential is.  We often have meetings that get scheduled and people forget to take them off the calendar. Then nobody has access to the room if they don't go there in person and check on its status."  
For More Information
You can learn more about RoomWizards online. They are available through vendor Red Thread and its MIT representative, Paul Piepiora. Piepiora can answer questions about the device and provide a price quote (a recent estimate for a single unit was $1750). Once a quote has been issued, RoomWizards can be ordered through ECAT.
For questions about installing RoomWizards at MIT, send mail to IS&T staff member Oliver Thomas.