Apple Releases iOS 5.1 for Mobile Devices; IS&T Recommends Upgrading Now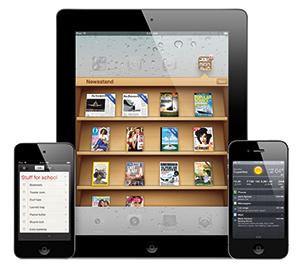 Apple has announced the release of iOS 5.1, which is available to all iPhones and iPads running iOS 5.0, including the iPhone 3GS, 4, and 4S, the 3rd- and 4th-generation iPod touch, and the iPad and iPad 2. Improvements include:
Japanese language support for Siri (availability may be limited during initial rollout)
Photos can now be deleted from Photo Stream
Camera shortcut now always visible on Lock Screen for iPhone 4S, iPhone 4, iPhone 3GS and iPod touch (4th generation)
Camera face detection now highlights all detected faces
Redesigned Camera app for iPad
Genius Mixes and Genius playlists for iTunes Match subscribers
Audio for TV shows and movies on iPad optimized to sound louder and clearer
Podcast controls for playback speed and a 30-second rewind for iPad
Updated AT&T network indicator
Addresses bugs affecting battery life
Fixes an issue that occasionally caused audio to drop for outgoing calls
For more information on this update, visit Apple's iOS 5.1 Software Update page.
Upgrade Recommended
Based on our testing, IS&T recommends upgrading to this new software at your earliest convenience, through one of two ways:
You can connect your device to iTunes, select your iOS device, and select Check for Update.
The update should be available for installation over-the-air (OTA) on the device itself, by going to Settings > General > Software Update.
Note: The OTA update may not be available yet on your particular device, and may take some time to roll out to all compatible iOS devices.
For IS&T's iPhone and iPad documentation, visit the Mobile Device Ninja in the Hermes knowledge base. If you have questions or issues pertaining to mobile devices, contact the Mobile Devices Team by email or at 617.324.1837.