Decisions website shares good news with the MIT Class of 2022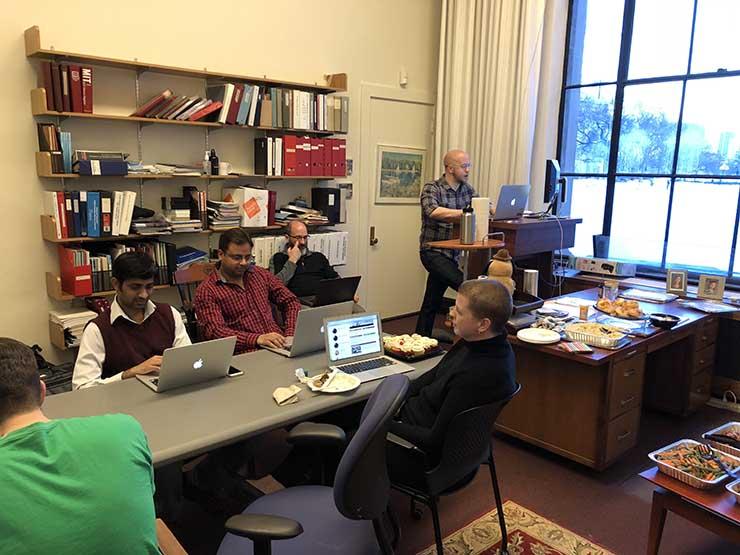 The Decisions team in the MIT Admissions office on Pi Day. Photo: Garry Zacheiss
Earlier this month, MIT formally announced its regular action admissions decisions for the Class of 2022. Decisions were released, as previously announced, through MIT's Decisions website starting at Tau Time on Pi Day (in non-geek speak, that meant 6:28 p.m. on March 14th).
A team of workers from Information Systems and Technology (IS&T) worked closely with the MIT Admissions office leading to and on Pi Day to ensure that the Decisions site released decisions at the advertised time without trouble, which it did.
As the graph below shows, the Decisions site began serving admission decisions at 6:23 p.m. (leaving a little breathing room before Tau Time in case of last minute glitches) and didn't look back.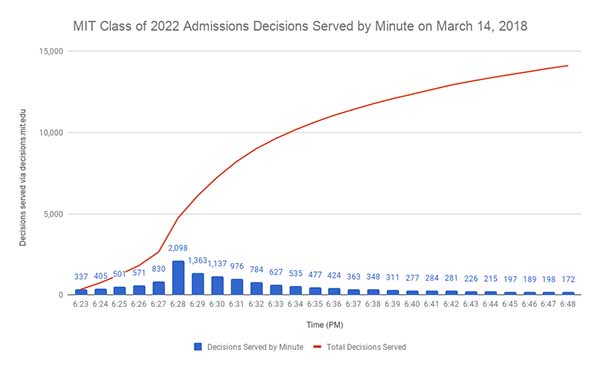 Chart: Phil Johnson
Within the first 25 minutes of launch, over 14,000 decisions were served, with the peak occurring at Tau Time, when more than 2,000 decisions were served during the minute of 6:28 p.m., at a rate of just under 35 decisions served per second.
Some admitted students shared the good news they received via the Decisions site on social media.
After years of hard work and dedication, I'm excited to say I'll be the first in my family to attend university! #MIT2022 pic.twitter.com/xKvo8taAty

— kristine (@kristinehocker) March 14, 2018
Ultimately, 1,464 students were admitted to the MIT Class of 2022. This includes those admitted on PI Day as well as those admitted last December under the Early Action program, who also found out via the Decisions site.
On behalf of all of us at IS&T, congrats to the members of MIT Class of 2022! We look forward to welcoming many of you (and your devices) to campus this fall!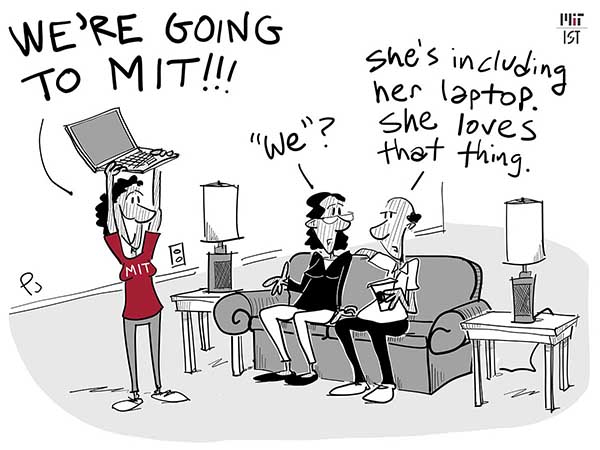 Cartoon: Phil Johnson