Top Things to Know About Facebook Timeline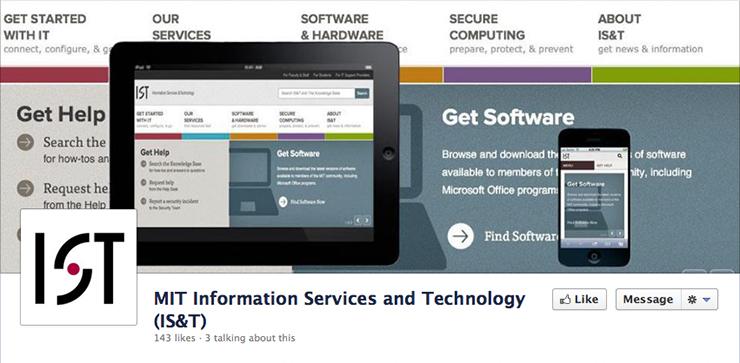 It's inescapable. In fact, it's HERE. Facebook has rolled out its Timeline layout, a new look and feel for all Facebook pages.
If you maintain the Facebook page for your department, lab or center (DLC) and haven't "faced" this latest transition, here's a quick review  of Top Things to Know. (Many of these tips also apply to your personal Facebook page.)
The new layout features a large cover photo with a small profile image over its left lower corner.
Since the cover photo is so prominent, you'll want to choose one that's eye-catching and appropriate to your DLC. You can change the cover photo as often as you like.
The cover photo dimensions are 815 x 315 pixels. You can size an image to those dimensions if you don't want the image cropped. Otherwise, upload an image that is at least 399 pixels wide. If it's more than 315 pixels in height, Facebook will center-align the image vertically and you can then do some minor repositioning.
You can't use the cover photo for calls to action, such as to "like" your page.
The square profile image is 180 x 180 pixels. It's a good place to position your logo or other identifying graphic. The Massachusetts Institute of Technology Facebook page, for example, uses an image of the columns facing Killian Court as its profile image. The MIT Admissions Facebook page features Tim the Beaver.
The profile photo also appears as an icon beside each post in your news feed.
The tab apps (e.g., info, photos, notes, events, and videos) formerly found in the left-hand column have been repositioned beneath the cover photo. Fewer are visible at one time, so consider which ones are key to your page and edit accordingly.
A through-the-years, literal timeline sits to the right of the cover photo.
This comprehensive timeline lets viewers click a year or a month within a year to see your DLC's Facebook posts in that timeframe.
You can post milestones – key events in your DLC's history – on your timeline. You first need to set a milestone for when your DLC was founded.
You can mark a post as a milestone as you're entering it by clicking the Milestone icon on the upper right of the post.
Under the cover photo, a two-column format rules.
The dividing line between the two columns serves as an informal timeline of recent posts.
If you want to give a post extra attention, you can have it span two columns by clicking the star icon (Highlight) in the upper right of the post.
Another way to give a post prominence is to "pin" it to the top of the timeline. You do this by selecting the small pencil icon (Edit or Remove) in the upper right of a post, then choosing "Pin to Top." You can only pin one post at a time; it will stay at the top for 7 days, or until you pin another item.
Facebook offers new options for privacy.
You can adjust privacy settings for each post using the audience selector next to the Post button.
You can now send and receive private messages with those viewing your page. This translates into enhanced customer service while ensuring that the content on your Facebook page stays focused on the messages you want to deliver.
Learn More
To find out about Facebook Timeline in more detail, check out Facebook's Help Center and videos, or read the reviews from other sources highlighted below.
Facebook Help and Videos
Introducing New Facebook Pages
Timeline: A New Kind of Profile
New Pages: Customizing Your Page
Other Sources
PC World: Facebook Timeline Arrives for Business: Prepare Your Page
Mashable: Facebook Brand Timelines: 6 Big Changes Every Marketer Needs to Understand
Nonprofit Tech 2.0: HOW TO: Post Milestones to Your Nonprofit's Facebook Page
And a tip of the hat to Stephanie Hatch, MIT's Social Media Specialist, for many of the pointers in this article. To see all of her articles on Facebook, check out her blog, Social Media at MIT.