GAP GAP hooray! New cloud-based portal transforms managing graduate appointments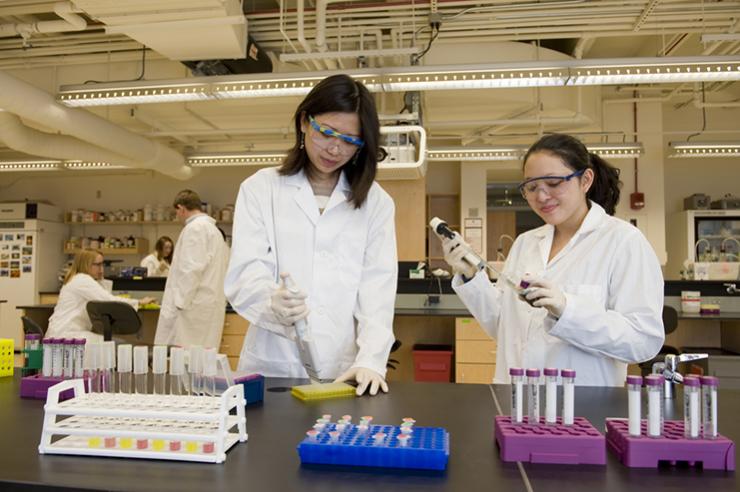 Image: Christopher Harting for the MIT Image Library
On April 10, the Graduate Appointment Portal (GAP) replaced Web Grad Aid as the web-based data entry tool for processing graduate appointments and awards. The new GAP system integrates with MIT's student information systems and SAP, providing significant improvements in managing graduate appointments. This academic year, MIT has 6,852 graduate students on board.
A bit of background
Web Grad Aid, the current system of record, is accessed by about 300 people at MIT, from graduate administrators and AO/FOs to staff working for the Office of the Dean for Graduate Education (ODGE), Student Financial Services (SFS), and the Office of the Vice President for Finance (VPF).
While a graduate appointment system is essential at MIT, Web Grad Aid had been showing its age. An Oracle database, it was built in 2001 with minimal integration with other systems on campus. Data needed to be entered multiple times and calculations were done on spreadsheets outside the system, complicating reporting and audits. In addition, the data in Web Grad Aid was processed overnight, not in real time, leading to delays and inconsistencies in payroll system data.
Enter GAP
The development of GAP involved extensive collaboration and efforts across campus. Started in 2015, the initiative was overseen by an eight-person steering committee. The portal was developed by a 16-person project team and tested by a user group composed of 49 participants from 33 departments.
In redesigning the application, the project team focused on several goals:
Integrating real-time data
Improving the user interface
Leveraging standard SAP appointment structures
Eliminating shadow IT systems
Creating reusable application programming interfaces (APIs)
The team also sought to achieve extensive business process improvements, from built-in reasonable compensation calculations to a robust workflow approval process.
All told, GAP offers users over 20 new features, including weekly status reports, cost object validation, an appointment change log, and the ability to add attachments. Historical appointments from Web Grad Aid are available in GAP, allowing graduate administrators to view and modify existing appointments based on appointment change policies. Starting May 1, administrators will be able to process new appointments for Aid Year 2018 in GAP.
GAP is also an impressive architectural achievement. Built natively on the SAP HANA Cloud Platform, it integrates several MIT databases – such as MIT Roles and MITSIS – with the MuleSoft API platform and MIT's HANA Enterprise Cloud. Interactions between these systems all happen in real time, improving the accuracy of graduate appointment data in the payroll system.
The bottom line? GAP offers efficient appointment creation, improved data quality, and simplified reporting. As was the case with Web Grad Aid, GAP is available to authorized users through Atlas.
Training and support
An e-learning site linked within GAP includes videos, interactive graphics, and documentation. It's designed to be viewable on any device. Knowledge Base (KB) articles about GAP are also linked from the portal.
IS&T will offer GAP information sessions (a 90-minute demo, followed by a 30-minute Q&A) on these two dates:
April 24, 10 a.m. to noon, Room 36-156
April 26, 1 to 3 p.m., Room 1-190
All those interested are invited to attend.
In addition, IS&T will offer a GAP drop-in session from 9 a.m. to noon on April 28 in Room W92-106A. Graduate administrators are invited to bring their scenarios and get help with processing them.
If you have questions about GAP, feel free to reach out to Keiko Tanaka, Office of the Dean for Graduate Education, or Kevin Lyons, Information Systems and Technology.