IS&T's Back-to-School starter kit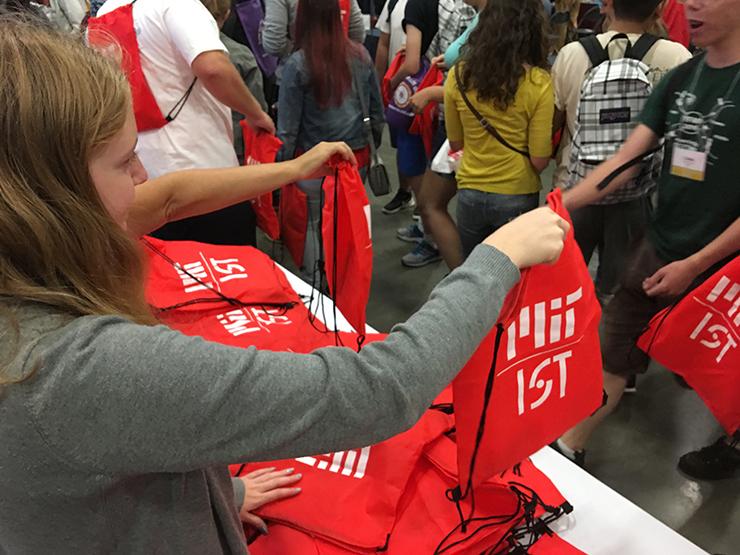 Visit us at the Academic Expo on August 29 and get a swag bag! Image: Phil Johnson
Are you a member of the MIT class of 2022? Here are some helpful resources to get you started with Information Systems and Technology (IS&T) at the Institute.
The article Getting Started with IT at MIT outlines which hardware is ideal to have at MIT and which operating system to use on both computers and mobile devices. There are also some helpful resources listed, like IS&T's website and the Knowledge Base (KB).
Just about 8 weeks until you #MIT2022 students arrive at @MIT! We're excited and we're sure you are, too. To help pass the time, this summer we'll be sharing info about how to prepare for your digital life at the Institute.

Here's our first installment: https://t.co/RQfXzyQ7kO pic.twitter.com/6b8AstNCJO

— MIT IS&T (@MIT_ISTnews) June 29, 2018
Creating an MIT online identity helps you to set up essential accounts to get access to MIT sites and resources.
At MIT, security is very important, as the Institute is often a target for hackers and scammers. The article Protecting your computer shows you how to keep yourself safe.
Finally, as an MIT student, you have access many well-known software packages and cloud-based services, free of charge. Free software and cloud services! tells you about some of the more popular ones available to you.
New students can get a head start on their MIT experience by taking our onboarding tutorial to learn more about computing at the Institute.
To learn even more about IS&T's software and services, visit us at the following events coming up during orientation for MIT freshmen. We hope to see you there!
#MIT2022 members: Mark your calendar and plan to attend these two back-to-school events to learn more about computing at @MIT: https://t.co/XzJg64yd7R pic.twitter.com/O5gcDi60VZ

— MIT IS&T (@MIT_ISTnews) July 31, 2018