Meet IS&T's 2019 summer interns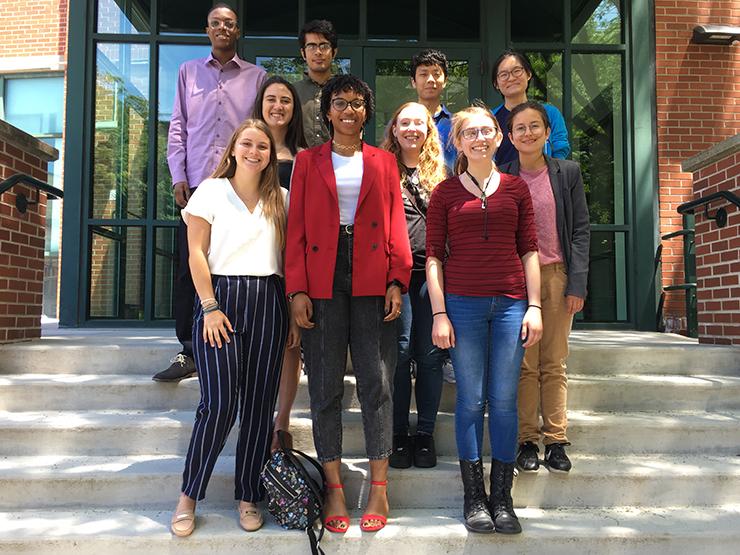 The first thing that used to come to mind when I considered the term "intern" was the stereotypical novice from the movies. You know, the ones that start their day by bringing coffees to everyone in the office, making photocopies, and getting asked to do trivial tasks. Turns out, life as an intern is actually quite the opposite.
Here at IS&T, ten interns (myself included) spend our days working with insightful mentors and teams, developing content and gaining worthwhile experience that will help us in our near futures. Not to mention benefiting from the free coffee and snacks!
Meeting new people and developing lasting connections is essential during this time in our lives. If you haven't had the chance to meet us in person, let me tell you a little about ourselves and our roles here:
Kenneth Desrosiers is a Software Engineering intern from Stoneham, MA and a junior studying Computer Science at Worcester Polytechnic Institute. Ken is working with the IS&T Data Science team to make data-analyzing cloud software more user friendly.  
Montserrat Garza is a Software Asset Management (SAM) intern from Laredo, TX and is developing website content – and a design – for the SAM team. She is a sophomore here at the 'Tute, where she studies Electrical Engineering and Computer Science. Montse knows all about the best food trucks on MIT's campus and loves to share the best places to eat with her fellow interns.
Janny Huang is a Software Engineering intern from New York City and a junior at Tufts University, where she studies Computer Science. In addition to learning more about continuous integration tools, she's enthusiastic about trying many new snacks in the office – like her first Hot Pocket, a college student essential.
Leylanah Mitchell is a Project Management intern working to create onboarding content for the Project Management Office. Leylanah is from Boston and is also a student here in the city; she's a junior at Northeastern University, where she's studying Game Art and Animation.
Molly Nagele, a Development Operations intern, is from Destrehan, LA and is a senior here at MIT. A Computer Science major, Molly is excited to be expanding her knowledge of cloud platforms while interning in the real IT world.
Imran Shah, also a Development Operations intern, is from New York City. Imran is a junior at Harvard, where he studies Computer Science and Statistics. A first-generation student from a large family, he's looking forward to honing his craft in computer science during his time here in IS&T.
Edward Song is a Software Engineering intern from the Boston area, focused on managing Application Programming Interfaces (APIs). He attends the University of Michigan, where he's a sophomore studying Computer Science.
Juliana Testa is an eLearning and content development intern from San Francisco. A junior at Tufts University, she's majoring in Computer Science and Cognitive Brain Sciences.
Claire Traweek is an IT Systems Architecture intern from Scranton, PA. She is a senior here at MIT, studying Mechanical Engineering. A unique part of her summer assignment includes using technology (including a Raspberry Pi) to keep her purple basil plant alive.
And to wrap up the list, there's the intern writing this blog post:
I'm Nicole DeSimone, a Digital Communications intern from Saugus, MA and a senior at High Point University. I've been developing content for IS&T's various social media platforms and creating graphics for events. I've been enjoying life as an intern and experiencing what it's like to create for someone other than myself.
As interns, we are all getting a taste of the real world while continually learning new things. This experience is one we will never forget, along with the connections we've been making along the way.
To see more of what we're up to during the remainder of our summer internships, be sure to check out IS&T on the following social media channels: