The Reporting User Group: Where it all adds up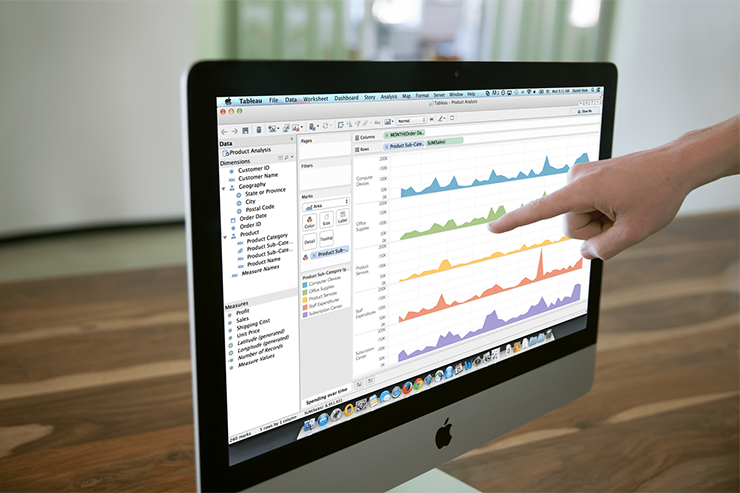 Do you work with Tableau and Cognos, MIT's data reporting tools? Do you have questions about data in the Data Warehouse? Then make the Reporting User Group part of your equation. Led by staff from Information Systems and Technology (IS&T), this group offers hands-on help at weekly meetings throughout the year.
Drop-in sessions
Most of the meetings are drop-in sessions, with no appointment required. If some aspect of a report has you stumped, just bring along anything you need to discuss the issue (including your Duo device). You can also catch up with other Reporting users and share information and tips with them.
Says Tyler Brezler, a financial administrator in the Chemistry department, "At a user group meeting, the IS&T Reporting Team walked me through the steps to create the reports I needed, going at a pace I was comfortable with and explaining the process in terms that made sense to me. I can now navigate Cognos independently and design complex, custom reports. I'll continue to work with the Reporting Team to expand my abilities."
Third Thursdays
The format changes on the third Thursday of each month, when the Reporting User Group offers a formal training session. These classes cover Cognos and Tableau, as well as some data-related topics. Past sessions have included: Cognos – Building Reports (beginner and advanced), Tableau Fundamentals, Warehouse and Roles Authorizations, and Tableau Data Sources, among others.
Suzanne Pettit, from the Office of Sponsored Programs, notes that "The Third Thursday classes are helpful, even if you're already familiar with the tools. There's always something new to learn, and the IS&T team brings it all together in a clear and easy format."
Space in the Third Thursday sessions is limited and reservations are required. Upcoming sessions are listed on the Data Warehouse & Reporting Support Resources page; sign-up is also available from this page for the two weeks before a class.
When and where
The Reporting User Group meets on Thursdays from 1:30 to 3 pm, usually in Building NE49-3098 (Little Cayman). However, due to renovations in NE49, the July 26 and August 2 meetings will be held in Building 2-131. The Third Thursday sessions are usually held in the Atlas Service Center conference room on the first floor of Building E17.
Questions or suggestions?
If you have questions about the Reporting User Group, Tableau, or Cognos, or would like to suggest a training topic, send email to reporting-help@mit.edu. For help with Data Warehouse questions, send email to warehouse@mit.edu.