New IS&T Course Catalog Lets You Zero In on Computer Training Options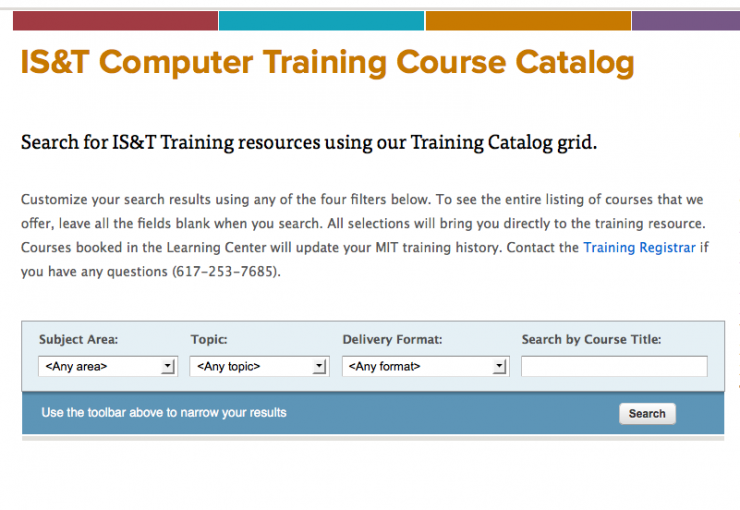 There's a tremendous amount of training available at MIT today, much of it online. Prime examples include lynda.com, Skillsoft, and MIT training from central administrative offices that covers everything from HR and financial administration to campus safety and policy compliance. IS&T's Training Manager, Mark Wiklund, notes that "Online courses have become the standard staple of training."
With so much on offer, where do you begin? One good place to start is the Atlas home page, which lists Training under the menu on the left. From there, you can access the MIT Learning Center and lynda.com, as well as the MIT Learning Center FAQ (certificates required for all of these options).
If you're looking for training developed by IS&T, another starting point – bookmarkable! – is the department's new Computer Training Course Catalog.
Refine Your Search for IT Training Opportunities
If you've ever searched for software using IS&T's software grid, you probably appreciate the ability to quickly zero in on what you're looking for. The new training catalog grid works in the same way. Featuring IT-centric course materials in which IS&T has played a role, it lets you filter your search by:
Subject Area (e.g., Data Management, Financial Management)
Topic (e.g., Cognos, Requisitions)
Delivery Format (e.g., online in the Learning Center, classroom, PDF, lynda.com playlist)
You can also search by course title.
To give a sense of the range of offerings, here's a small sample of courses and training materials:
Online courses: Facilities Service Requests, SAP, Securing the Human, Purchasing
Playlists of lynda.com courses relevant to the MIT community: Adobe Creative Cloud, Microsoft Office
Courses taught in the classroom: Build Basic Cognos Reports
Documents, including PDFs, quick cards / Knowledge Base articles, and Word documents: HR Transactions – Copy Transaction Quick Card, Online Registration Advisor Guide
All courses can be viewed on PC and Macintosh desktops and laptops. A goal for the coming year is to make IS&T courses accessible on mobile devices.
Explore More
Be good to yourself. Set aside some time to explore the wealth of training options that MIT offers – from lynda.com and Skillsoft to courses developed right here on campus. If you have questions or feedback about IS&T's new Computer Training Course Catalog, contact Mark Wiklund at mwiklund@mit.edu.