Instant messaging platforms available at MIT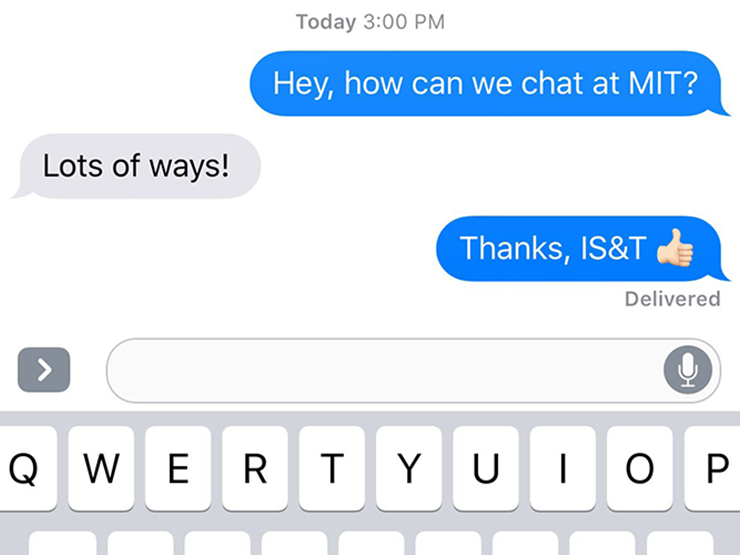 If the MIT community seems quiet to you, you're probably missing out on some busy chats! Instant Messaging (IM) can be a great way to learn about what's going on around campus and get acquainted with other community members. There are several IM platforms used by different groups at MIT. They may not all fit into your daily routine, but there's probably one or two chatrooms you'll want to join.
Jabber
Jabber is the main instant messaging system for all of MIT; users can log in with their Kerberos username and password. It offers group and individual messaging. To use it, you'll need a desktop client: Adium is recommended for Macs and Pidgin for Windows. Users also have the option to connect iMessage to the Jabber server.
Zephyr
Zephyr is a messaging system for talking with others when logged on to Athena. The messaging program zwgc (Zephyr windowgram client) runs in the background and informs you of new messages via a notification in the corner of the screen.
You can use Zephyr through a client as well. Popular choices are BarnOwl and Roost. MIT's Student Information Processing Board (SIPB) explains these clients and other Zephyr basics on its Using Zephyr page.
Yammer
Yammer is a chat service for all MIT employees. After login, you're put in the "All Company" group, which every employee has access to. This channel is reserved for major announcements. Joining other groups of interest will enrich your Yammer experience.
There are dozens of groups to explore. Topics vary from professional to general interests. Some groups can be joined with the click of a button. Others accept or reject new member requests or are invite-only.
Yammer is great for workplace collaboration and socializing. To get started, check out the Yammer step-by-step guide (for logged-in users only) and 37 Ways To Use Yammer. The Information Systems and Technology (IS&T) Knowledge Base also has some Yammer resources.
Note: An earlier version of this post incorrectly identified the authentication method for Jabber.