Spring Cleaning: Tech recycling starts at the Property Office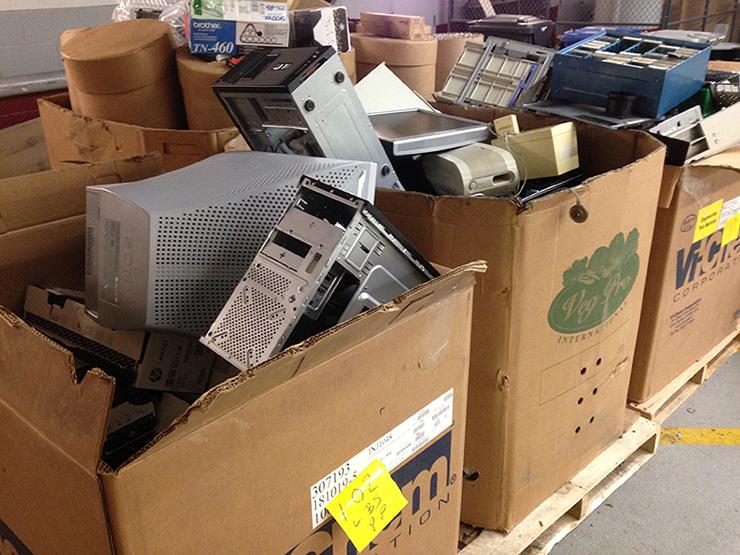 Electronic waste is picked up weekly from the Stata Center loading dock. Photo: Ruth Davis
Mark your calendars for the Information Systems and Technology (IS&T) Spring Cleaning event: May 1 from 10 am to 4 pm in the Student Center Coffeehouse (W20, 3rd floor). Find out how to shred your old hard drives, secure and clean up your digital life, and recycle hardware!
'Tis the season to tidy up, so don't forget to recycle your obsolete IT equipment (also known as e-waste). Old or damaged computers and laptops can be safely recycled to clean up your desk in a responsible way. Read on to find out what's involved.
Deactivation
The MIT Property Office keeps complete records of computers issued to community members. All MIT-owned machines have barcodes for identification purposes.

"If your device has an MIT barcode tag, please be sure to notify the Property Office prior to recycling or disposal," says Erin George, the senior staff accountant in the Property Office.
Before a computer with a barcode can be recycled, the Property Office must issue a deactivation tag. This removes MIT's accountability over the device and updates records accordingly. If you move to another department, lab, or center (DLC) or leave MIT, the Property Office must be notified.
Even if the device in question is at the end of its lifecycle, it needs to be marked as deactivated. From there, your options will vary depending on your DLC and the condition of the computer.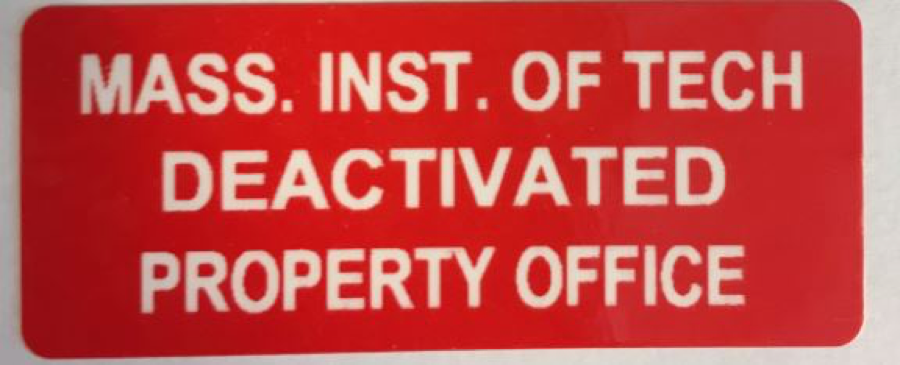 Media sanitizing
Before you recycle your deactivated computer, you'll need to wipe the hard drive to ensure that it doesn't contain sensitive information. MIT's recycling program does not erase the contents of the hard drives it recycles.
The Knowledge Base (KB) has detailed information about effective media sanitizing.
Recycling
The MIT Department of Facilities offers free recycling services for deactivated computers and other MIT-owned IT equipment. Removal of equipment from MIT buildings is coordinated through its Recycling and Materials Management Office, managed by Ruth Davis. "Our basic recycling services are free," notes Davis. "However, if a piece of electronics requires special equipment to remove it, then an outside company is brought in at the DLC's expense."
Faculty and staff can request this free service through Atlas. Students who live on campus and would like to use this service must go through their house manager.
The Recycling and Materials Management Office has also placed TechnoCycle bins in most of the Distributed Mail Centers (DMCs) and residence halls. You can use these bins to drop off small MIT-owned IT equipment for recycling. This includes items such as CDs, keyboards, cables, hard drives, and laptops. The DMCs also have bins for battery and plastic film recycling.
More information on what can be recycled in the TechnoCycle and battery bins can be found on the Facilities Recycling website.
In-person assistance
On May 1, Erin George will be at IS&T's Spring Cleaning event along with Ruth Davis and Jarrod Jones from the Recycling and Materials Management Office. George can discuss the deactivation process and issue tags on site, while Davis and Jones can answer your recycling questions.
"The IS&T Spring Cleaning Event is a great opportunity to clean out any old or obsolete technology that is collecting dust and taking up valuable space in your DLC," George says. "Be sure to take advantage of this convenient event and request the deactivation of your device and learn how to recycle it all at once!"
If you're unable to attend, check out the Property Office and Department of Facilities websites. For recycling inquiries, you can send email to recycling@mit.edu.