IT Techs: Get to know IS&T's Endpoint Management team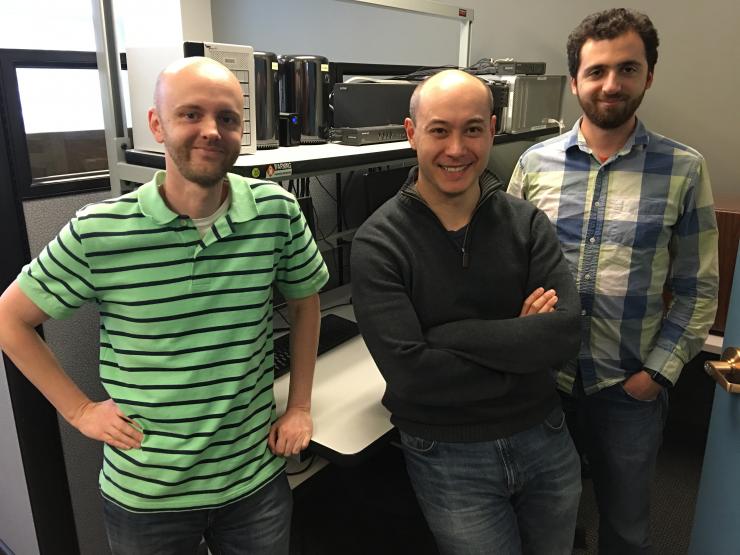 The EPM team (l to r): Tim Yager, Chris Feller, Matt Hershberger. Photo: Phil Johnson
Departments, labs, and centers (DLCs) at MIT are continually adopting new computing technology and updates. "With so much change, it becomes very difficult to manage an environment," says Tim Yager, IS&T's Manager of Hardware and Software Deployment.
DLCs can improve computer and mobile device management via "endpoint" workstations solutions such as SCCM and Casper. "The endpoint solution provides a central place to keep track of things. The best part is that when set up properly, your inventory will always be up to date, as opposed to the old-school method of an Excel spreadsheet," says Yager.
IT management support
The EPM team helps IT technicians with setup and imaging of devices and with management of devices throughout their life cycle. "The team currently consists of three technicians, who develop the service offerings and train technicians on how to use them," Yager explains. "We offer one-on-one trainings as well as group workshops throughout each semester."
Software used
The EPM team employs imaging and endpoint management software to streamline the management of multiple devices.
On Windows computers, the Microsoft Deployment Toolkit (MDT) is used for imaging and Microsoft System Center Configuration (SCCM) for managing devices. On Mac computers, JAMF Casper is used for both imaging and management.
"SCCM and Casper enable technicians to inventory the devices they support, ensure encryption is set up, patch software, and generally just keep an eye on their environment," Yager says.
Learn more
More information about EPM service offerings is available on the IS&T website.
Yager invites IT technicians across campus to reach out. "If you would like to discuss our service offerings and how we might be able to help you manage your computing environment, please contact us!"