10 facts about MIT IS&T's SAP HANA migration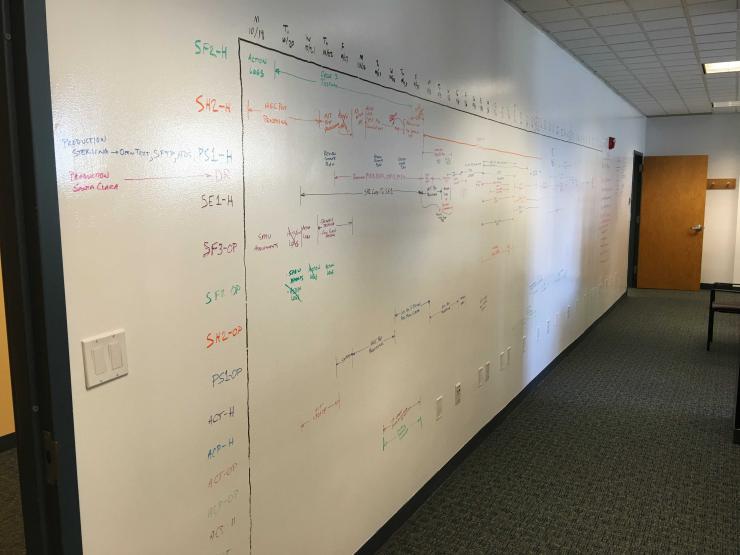 A partial schedule of the SAP HANA migration project. Photo by Phil Johnson
Last month, MIT IS&T successfully completed the migration of MIT's SAP application environments to SAP's HANA Enterprise Cloud (HEC) platform. The 5-month long project was a herculean effort that affected dozens of production systems and involved more than 100 people. The migration of MIT's SAP systems to HEC should improve performance, increase disaster recovery options, and provide a more solid and flexible foundation for future work.
The following facts and figures help to tell the story of the project and how it was pulled off so successfully.
Hasso Plattner
The German billionaire and co-founder of SAP who is the namesake of the HANA platform, which stands for HAsso's New Architecture.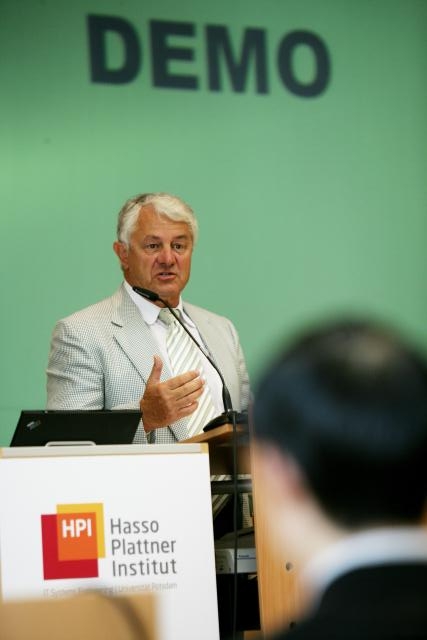 By Epic-chair [CC BY-SA 3.0 or GFDL], from Wikimedia Commons
Did you know that Plattner is also the majority owner of the National Hockey League's San Jose Sharks? Well, now you do.
H2O
The official name of the HANA migration project, which stands for HANA to Optimize.
One suggested name that wasn't chosen: Procrustes, the son of Poseidon from Greek mythology, who physically attacked people by stretching them or cutting off their legs, so as to force them to fit the size of a particular bed.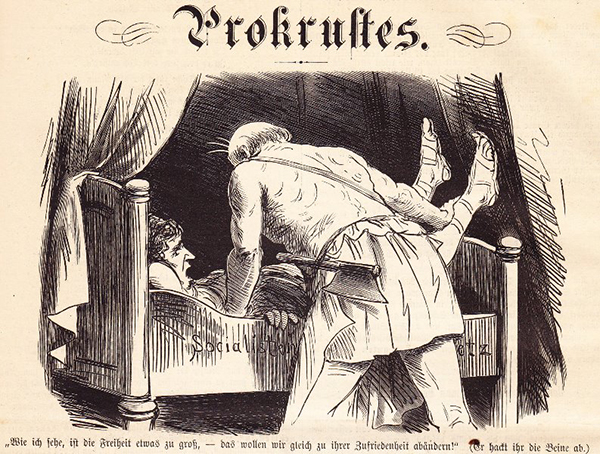 H2O was deemed a less, um, intimidating choice.
25 by 7
The size in feet of the schedule for the last two months of the project as represented on a whiteboard paint-covered wall in W92. It was used by project and team leaders during daily standups to track and coordinate work across affected systems (color-coded and listed on the left).
"This is in accordance with the Agile approach that's going on here," SAP consultant Pat Casey said. "We picked it up about mid-project, at 10/19; that's when the wall was finished being painted."
"The board is just primarily high-level tasks that were going on for each of the different systems and the things that we had happening. There's a lot more detail underneath each of these that were tracked day-to-day," said Casey.
Surprisingly, it survived unscathed despite nobody ever writing "Don't erase!" on the wall.
400+
The number of standup meetings held during the course of the project by the 42 core team members across four scrum teams: Globetrotters (which handled everything on the front end), Tectonics (infrastructure), Poseidon (finance, logistics, and plant maintenance), and, yes, Spartans (HR, payroll, and e-learning).
7
The number of cycles that the SAP HANA project was divided into. The seven cycles ("Sounds mythical," said Spartans team lead Frank Quern) were:
Cycle 1 – Proof of Concept
Cycle 2 – Migrate on premise development environment to SAP's HANA Cloud Enterprise (HEC)
Cycle 3 – Repeat migration on premise development environment to HEC but include year-end support packs in the process
Cycle 4 – Migrate QA/Test environment to HEC
Cycle 5 – Execute migration of mock-cutover of production environment to HEC
Cycle 6 – Execute disaster recovery test
Cycle 7 – Execute production cutover
The busiest time of the project was Cycle 4, during testing and mock cutover. "This was the most brutal time because we had five systems that had to be upgraded and tested simultaneously," IS&T project lead Siobhan Cunningham said.
The most fun time? Cycle 8 (unofficial) - Execute celebration
2,154
The number of MIT community members using SAPgui client software which needed to be upgraded to v7.40 before they would be able to connect to SAP HANA after migration. This required repeated reminders to users to upgrade before the final cutover was completed and time ran out.
It's the final countdown for MIT #SAPgui users: You must upgrade to v7.40 by Monday, 12/14! https://t.co/Y4I9epdJo5 https://t.co/AUZ48bL3Un

— MIT IS&T (@MIT_ISTnews) December 8, 2015
When you migrate to SAP HANA, it's what you do.
84
The number of steps in the plan for the final cutover to SAP HANA, which included more than 100 sub-tasks.
By Uddhav Gupta [CC BY 2.0] via Flickr
The final production migration commenced late in the afternoon of Friday, December 11th and was completed in time for the start of business the following Monday, exactly as planned.
"There were some bumps," Casey said. "We had to go through a few things where we had to address some issues but everybody that were on all the teams that were involved stepped up and did what was necessary."
No word on how winded team members were when it was all done.
135
The number of issues that had been identified by go-live time, thanks to exhaustive testing during earlier cycles, including 1,649 test cases run during Cycle 4 alone. 80 of these issues surfaced during unit testing, while 55 were identified during systems integration testing. At time the project went live, all but 5 (low-priority) issues had been resolved, which helped explain the smooth transition during the final cutover.
"We did a tremendous amount of due diligence that luckily caught everything that was significant before we went into cutover," Cunningham said.
As they say, measure twice (or several thousand times), cut (over) once.
1.7
The amount of data, in terabytes (TB), (stored in MIT's Oracle SAP database) that were migrated.
These data consisted of:
25,100,261 payroll results records
78,661,862 payroll tax records
125,278 personnel records
217,930 vendor accounts
35,175,005 financial documents
2,262,078 purchase orders and requisitions
1,320,000 facilities notifications and work orders
After the migration to HANA, those same data only took up .95 TB.
155
The total duration of the H2O project in days, from kickoff on July 13th to completion of production cutover on December 14th. That doesn't include post-project recovery time for team members.
Congratulations to the entire team on a job well done!