And the Back-to-School raffle winners are….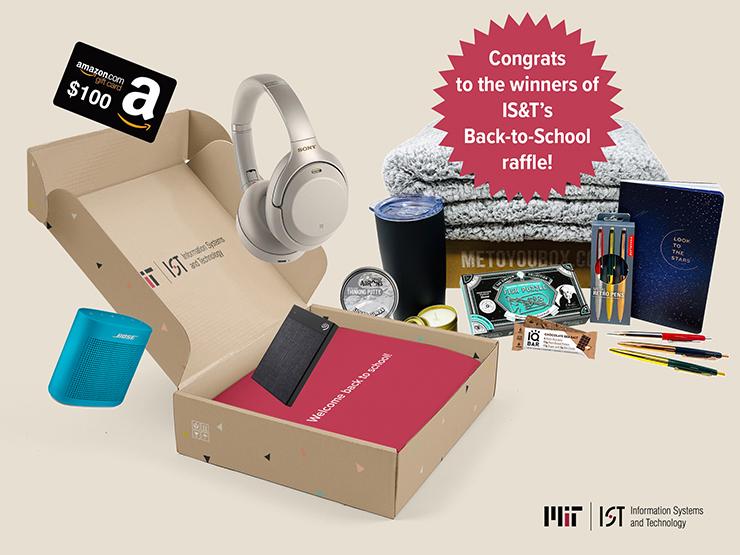 Illustration: Runming Dai
Thanks to all of the MIT students who entered Information Systems and Technology's (IS&T) Back-to-School raffle this year.
675 students, both undergrads and grads, entered for a chance to win a fun or functional prize to help make the school year a little easier and more comfortable. We are pleased to announce that the winners are… (drum roll, please):
Kelly He 1st Prize (Sony WH-1000XM3 Wireless Noise-Canceling Headphones)
Alexis Jones 2rd Prize (Me To You gift box)
Jessica Ding 3rd Prize (Bose SoundLink Color Bluetooth Speaker II)
Sarah Rege 4th Prize ($100 Amazon gift card)
Tiwalayo Aina 5th Prize (Seagate Backup Plus Ultra Touch 2TB External Hard Drive)
Congratulations to all of the winners! Check your MIT email for instructions from us about claiming your prize.
Because we MITers love numbers, here are a few raffle-related stats:
2,155 total entries were generated, an average of 3.2 entries per entrant.
67 students earned the maximum number of 10 entries.
The Class of 2023 had the most entrants of any class, including grad students. Nice going sophomores! Here's are the number of entrants by class:

192 - Class of 2023
186 - 2024
131 - 2022
101 - 2021
65 - Graduate students

1,150 students were tagged by other students in raffle-related social media posts (students could be, and were, tagged more than once), the vast majority of it happening on Instagram. Here are the number of friends tagged by social media platform:

833 - Instagram
243 - Facebook
74 - Twitter
Thanks again to all who entered. Have a great year, everyone!