The 2016 IT Partners Conference was full of valuable information...and free swag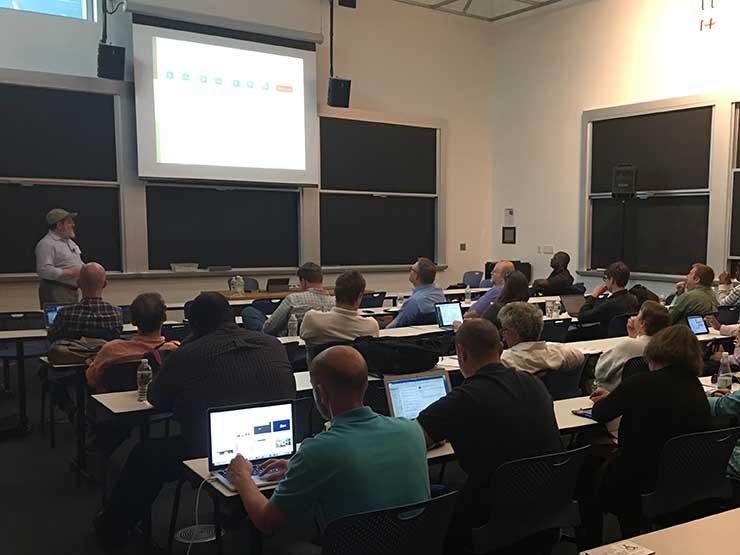 The 2016 IT Partners Conference, located at the MIT Ray and Maria Stata Center, or building 32, reached a peak this year in number of attendees. Normally, there are about 250 participants, but this year more than 310 people registered.
Once attendees checked in, they were given an (M)IT Partners mug and lunchbox. The mug had some red sparkly "silly putty" in it as well for your kids (or yourself). There were also cuddly MIT beavers up for grabs.
At 8:30am sharp, continental breakfast was served. Bagels, muffins, croissants, and a surprising amount of flavored breads were available as well as four bowls of fruit salad.
Of course, coffee was available through the conference for those who run on caffeine.
At 9:00am, the keynote speaker took over. Sanjay Sarma, Vice President for Open Learning, gave a lecture about new discoveries in how people learn.
Photo: MIT
Turns out the average mind wanders after 10-15 minutes of information gathering. "Mind wandering" is a legitimate field of research today.
The best way to secure information from that 10-15 minutes is to retrieve it by answering questions. Perhaps lectures of the future in higher learning institutes will be broken up into small chunks followed by Q and A's.
After the keynote, various presentations and workshops were occurring for attendees to choose from. Sessions on DUO Security, GIT, Salesforce, training, collaboration, Mac/PC lifecycles, and more occupied the rest of the morning.
Numerous vendors including Apple, Conway, CopyTech, Dell, and GovConnection had a presence at the conference at tables along Student Street. IS&T manned several tables that provided services to the MIT community. One was an IS&T laptop tagging table.
For MIT: Free laptop #security tagging in Stata until 2! https://t.co/ijehKn5R73

— MIT IS&T (@MIT_ISTnews) June 14, 2016
IS&T was tagging laptops and tablets with theft deterrents all day. The tags are attached with a strong adhesive that makes it nearly impossible to remove.
.@STOPtheft1 #security tags deter thieves! MITers can get their laptops/tablets tagged until 2 today in Stata. https://t.co/hiGkIY1CLD

— MIT IS&T (@MIT_ISTnews) June 14, 2016
However, if forced off with something like a screwdriver, it leaves a "tattoo" on the device stating that it is stolen property.
This table also had some DUO Security and IS&T swag to give out. The frisbees went fast!
IS&T sponsored the Shred-it table, too. They had some bins to securely store papers, disks, and hard drives waiting to be shredded.
They were making use of its truck on-site to safely destroy items containing sensitive information.
Last reminder for @MIT: @Shredit is in Stata (1st floor, near 124) til 5 collecting old docs/media for shredding. pic.twitter.com/YujtFLAwLT

— MIT IS&T (@MIT_ISTnews) June 14, 2016
People were bringing in hard drives, disks, and papers by the boxes.
The Shred-it team ended up destroying 425 hard drives and five 96-gallon bins of paper. It was a successful day of shredding!
Lunch was provided by Rebecca's. Options included grilled chicken, roast beef, turkey, tuna salad, caprese sandwich, veggie and hummus, and much, much more.
Of course, there was a dessert table.
The rest of the day was information (and fun)-filled.
Panels on the Knowledge Base, Sloan, Quick Base, Dropbox, sinkholes, and more filled up the rest of the day.
Those who participated learned a lot and had fun! IS&T is looking forward to the next IT Partners Conference.