Use CrashPlan to save your precious data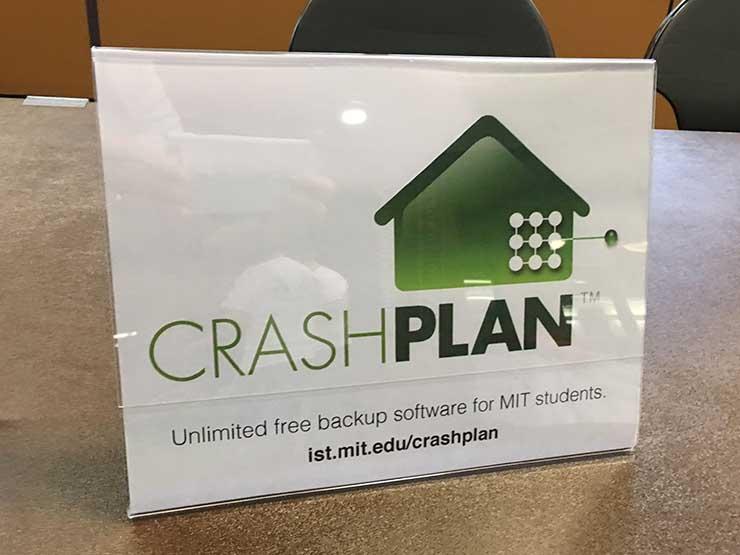 Computers and hard drives can – and do – die, usually at inopportune times. If and when this happens to you, you'll wish you had a backup of your data and files. That's why IS&T strongly recommends that everyone at MIT backup their computers regularly. Think of it as digital insurance, for everything from software to files to photos.
If you're already running backup software that you're happy with – great! If not, IS&T offers a backup service called CrashPlan for free to faculty, staff, and students.
CrashPlan, from Code42 Software, lets you easily retrieve your files and data if your hard drive fails. It offers the same protection if your computer is lost, stolen or damaged, or if you become the victim of a ransomware attack.
Once installed on your computer, CrashPlan backs up your data continuously, securing each new file you create. For added protection, CrashPlan encrypts your files before backing them up.
Getting and setting up CrashPlan
MIT faculty, staff, and students can download CrashPlan at no cost from the Information Systems and Technology (IS&T) software grid. IS&T's Knowledge Base provides instructions on how to install CrashPlan on Mac, Windows, and Linux computers; system requirements are listed on Code42's website.
Once you've installed CrashPlan, you'll be prompted to create a new account: do this using your Kerberos ID and password. CrashPlan will then log you in and immediately begin to back up your hard drive to the cloud. You can shut down your computer whenever you need to. CrashPlan will pick up where it left off once your computer is active again.
Through your MIT CrashPlan account, you can back up an unlimited amount of data for up to 5 devices/computers.
Support
For answers to common questions about CrashPlan, check out IS&T's CrashPlan FAQ. You can also contact the IS&T Service Desk for help.