By the numbers: Back-to-School 2019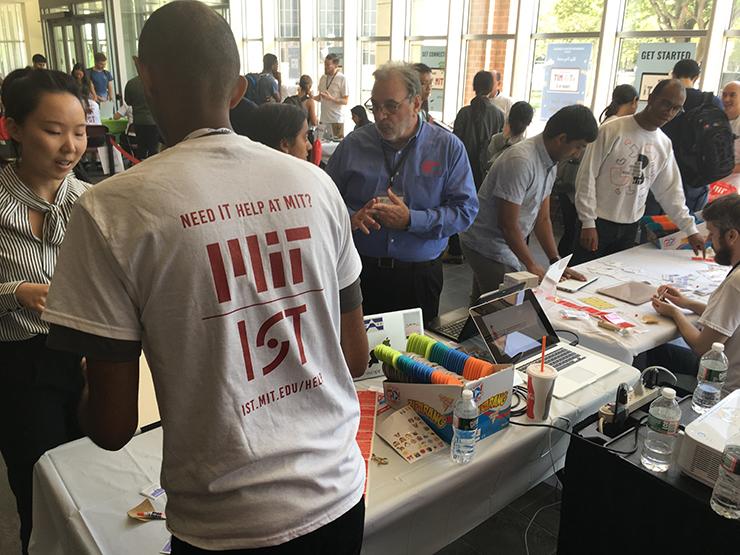 Devices being tagged in the Z-Center on Registration Day. Photo: Phil Johnson
Earlier this month, another school year officially began at MIT with the start of the fall semester. In the weeks leading up to the 2019-2020 academic year, Information Systems and Technology (IS&T), along with the rest of the Institute, worked hard to welcome students back to campus and make their arrival (or return) as smooth as possible.
Since MIT is a place that's all about numbers, here are a handful that capture IS&T's back-to-school efforts:
1,250
The number of informational cards we had printed to introduce new students to the basics of IT at MIT and the services that IS&T offers.
Welcome to campus, new @MITstudents and @MITGradStudents! Just FYI, if you need any tech help, IS&T is here for you! Here's some info about us and the services we offer.

Come meet us, learn more, and get FREE STUFF at these orientation events: https://t.co/XzJg64yd7R #MIT2023 pic.twitter.com/9p62gbhqDh

— MIT IS&T (@MIT_ISTnews) August 27, 2019
1,000
The number of swag bags IS&T packed in just about 30 seconds (OK, actually more like an hour) and handed out to students at MIT Orientation events. The bags contained water bottles, adhesive cell phone wallets, and camera covers along with important information at IT at MIT. Kids love freebies!
700
The number of swag bags we handed out to members of the MIT Class of 2023 at the Academic Expo in the Johnson Ice Rink on August 28.
632
The number of people who stopped by our IT @ MIT event on Registration Day (September 3) in the Z-Center to learn stuff, grab swag, and get devices tagged.
439
The number of MIT students (both undergrad and graduate) who entered IS&T's annual back-to-school raffle this year. Students could enter by following us on social media and/or by attending our IT @ MIT event on Registration Day.
327
The number of laptops and tablets tagged with STOP security tags, which help to deter thieves, during IT @ MIT.
ATTN everyone at @MIT: We're tagging laptops and tablets with @STOPTheft1 tags to deter thieves! Bring yours to the Z-Center before 4:00 and get one for no charge! pic.twitter.com/YXTafARQpF

— MIT IS&T (@MIT_ISTnews) September 3, 2019
30
The number of IS&T t-shirts printed for staff members to wear at orientation events. They made us really, um, stand out.
17
The percentage of the MIT Class of 2023 who entered IS&T's back-to-school raffle.
The class of 2023 are finally home @MIT! #MIT2023 pic.twitter.com/DHnCzmXK35

— MIT Students (@MITstudents) August 30, 2019
13
The number of informational videos we created about IT at MIT and played for students on big screens at orientation events.
12
The number of pizzas eaten by IS&T staffers at our IT @ MIT event. Hey, we like pizza! ¯\_(ツ)_/¯
3
The number of back-to-school raffle winners!
Wonder how they celebrated?
1
The number of handmade MIT Class of 2023 leather bracelets we spotted on Registration Day, along with some other less bespoke but still fun MIT gear.
Thanks to all who took part in IS&T's back-to-school and orientation fun! We're already counting down the days until the MIT Class of 2024 arrives on campus.