MIT students: Enter IS&T's Back-to-School raffle!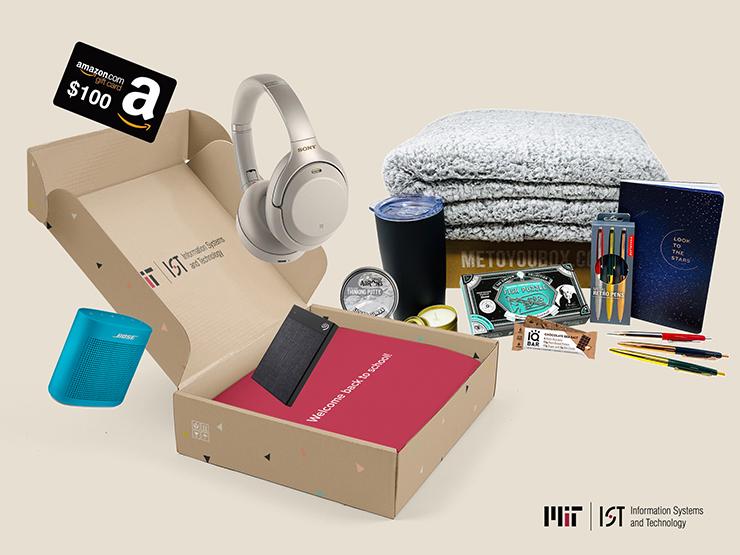 Illustration: Runming Dai
To help usher in the start of the new academic year, Information Systems and Technology (IS&T) is holding a Back-to-School raffle! All MIT students (undergraduate and graduate) who will be enrolled this fall are invited to enter.
Prizes
Prizes have been chosen to help make the school year a little easier and more comfortable, whether you are on campus or remote. Here's what you could win:
How to enter
MIT students can earn multiple raffle entries, up to a maximum of 10 entries per student. The more entries you get, the greater your chances to win!
There are three ways to earn entries:
Follow IS&T on social media: Follow us on Twitter, Facebook, Instagram, and Snapchat and direct message your Kerberos ID to us. You can get one entry per social media platform.
Share our raffle posts: Share our social media posts (like this tweet or this Facebook post) about the raffle! Each time you share a raffle post you earn an entry.
Tag fellow MIT students: When you share our raffle posts, tag a classmate! Each MIT student you tag earns you another entry.
For example, if you follow us on Twitter, retweet our raffle announcement, and tag two classmates, you would get four entries.
Raffle winners will be announced on our website at ist.mit.edu and via our social media accounts on Friday, September 4, 2020.
Info for incoming students
If you are an incoming MIT student, be sure to review the series of articles we've written to help you prepare for your computing life at the Institute.
Get IT help 24/7
Remember that if you have any IT-related questions, IS&T's Service Desk can provide help 24 hours a day, 7 days a week via phone at 617 253-1101, email at servicedesk@mit.edu, or the web at ist.mit.edu/help.