Meet IS&T's 2020 summer interns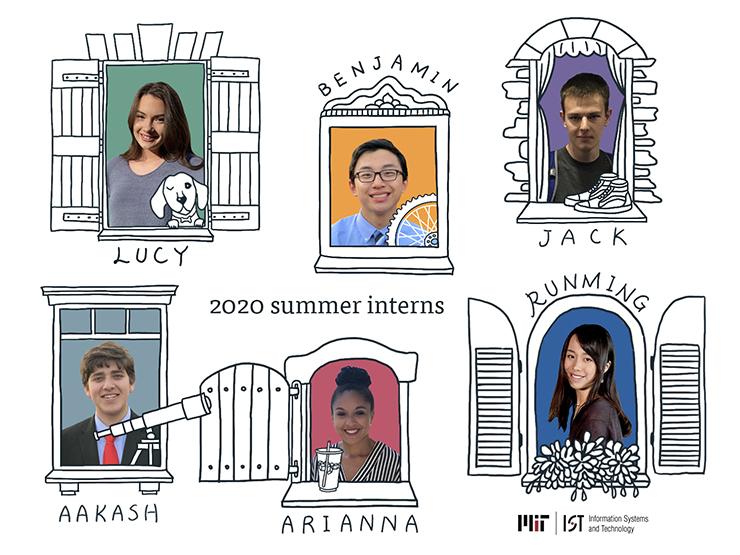 Earlier this month, a new batch of summer interns (remotely) joined Information Systems and Technology (IS&T). This year's students come from a number of different schools to work on a variety of projects and have already started making their mark. We're pleased that they are working with us and to introduce them to the MIT community.
Meet our 2020 summer interns and see what they'll be working on:
Aakash Mishra
School: Harvard University
Role: IT Security Engineering Intern
Project: Aakash is working with the Security team to update API functionality. 
Arianna Turner
School: Georgetown University
Role: Learning and Development Intern
Project: Arianna is working with the Knowledge Management team to update and maintain information in the IS&T Knowledge Base.
Benjamin Gao
School: MIT
Role: Software Engineering Intern
Project: Ben is working with the Integration team to develop continuous integration tools to merge code safely.
Jack Davis
School: University of Massachusetts Boston
Role: Software Engineering Intern
Project: Jack is working with the Integration team to design a better system for logging and debugging issues for IS&T.
Lucy Johnson
School: University of Rochester
Role: Software Asset Management (SAM) Intern
Project: Lucy is working with the SAM team to analyze common issues and improve the distribution of software to the MIT community.
Runming Dai
School: Massachusetts College of Art & Design
Role: Graphic Design Intern
Project: Runming is working with the Digital Communications team to generate social media contents, develop branding strategies, and create graphic assets for IS&T.
Welcome, everyone!
In the coming weeks we'll share more info about our interns on our social media channels, so be sure to follow IS&T on Twitter, Facebook, Instagram, and Snapchat!