Two IS&T interns discuss their work, teams, and fun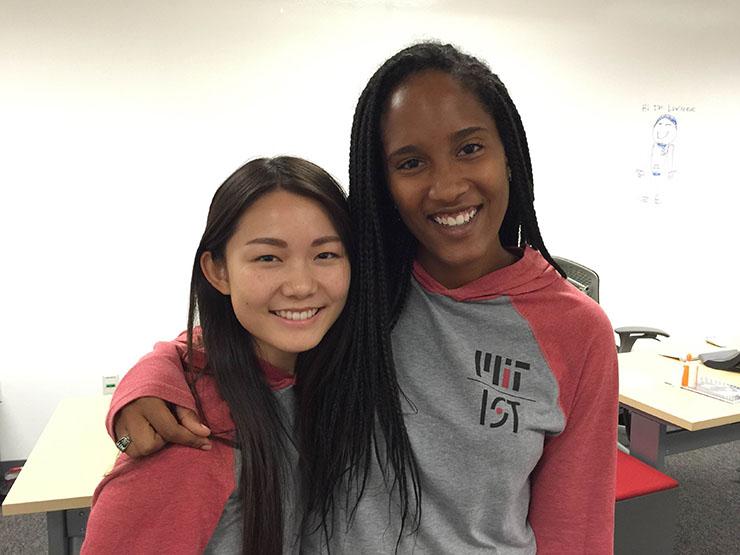 Alisa Ono, Chantal Acacio. Photo: Jess Archer
It's finally August, and several interns have been working for Information Systems and Technology (IS&T) for about two months now. We've already spoken to a few of the interns in blog posts "IS&T Welcomes Student Interns for Summer 2016" and "Two Interns Talk About Working for IS&T." This week, let's hear from the interns for the Business Intelligence (BI) Reporting and Platform Collaboration Teams.
Chantal Acacio will be a junior at MIT this fall. She's a Business Analytics major and a Sigma Kappa sorority sister. She was searching CareerBridge for summer internships in business and came across IS&T's job description. Since it was in her field, she applied, and a few weeks later she was interviewed and hired.
Chantal is on the BI Reporting team and has already learned how to use three programs: BrioQuery, Cognos, and Tableau. "The first few weeks were dedicated to helping me learn these programs," she says. "This was crucial to my work, so I'm glad my managers gave me time to get up to speed." BrioQuery (or "Brio" as she calls it) and Cognos are business intelligence programs and Tableau is a visualization program. Chantal now knows how to take a potential client's data and organize it in an easy-to-manage way. These programs let clients filter their information and access it quickly.
Tableau enables Chantal to graph the data as well. "It transforms numbers on a spreadsheet into a colorful graph that makes the information easier to understand," she says. Chantal can also map a client's input and output of money to help them budget. "I can help make clear where their money's coming from and how it's being spent," she says.
Once Chantal learned how to use the programs, she began converting reports from the Brio format to the Cognos format. "Brio is an outdated program, but people don't want to stop using it, and that's a problem we're trying to solve," she says.
Chantal has learned a lot in a month, and she's also made new friends. "It's nice being greeted by the other interns when I walk into the room." she says. "It's a small group and we have a lot in common, so we have a good connection."
Alisa Ono is a sophomore-to-be at MIT majoring in Electrical Engineering and Computer Science. She joined a job mailing list for students in her major, and an IS&T posting there caught her eye. She contacted the hiring manager, which led to an interview and getting hired.
As a member of the Platform Collaboration Team, Alisa works on the phone and voicemail systems at MIT. She's creating a program that talks to the different phone APIs at MIT. MIT currently uses a few different phone systems, including Cisco, Sylantro, OpenSer, and 5ESS. Alisa is writing a program that will talk to the Voice over IP (VoIP) API and APIs for all the different phone systems and match up phone numbers. "If the VoIP API says it's in Cisco, we have to make sure it's really in Cisco," she says. Each system has a database of phone numbers, and VoIP stores phone numbers as well. Alisa is making sure that the phone numbers in each system match.
After the program pings mismatches, Alisa has set it up to ask her (or whoever's running the program) what to do and then act on that prompt. "Let's say I tell it to delete the phone from Cisco and put it in Sylantro,'' she says. "The program will do it for me, instead of me having to log in to each system and change the settings manually."
Alisa's enjoying the atmosphere at W92. "I really like working here," says Alisa. "Everyone's friendly, and they're always happy to talk with me."
Alisa is thankful that she got an internship so early on in her college career. "This is my first internship," she says. "Compared to class, you learn a lot more in an internship. In class, you study to take a test. In an internship, you're thinking through problems on your own and solving them in different ways. I'm learning so much."
Alisa and Chantal are happy solving problems for IS&T and are looking forward to the last month of their internships.