Two interns talk about working for IS&T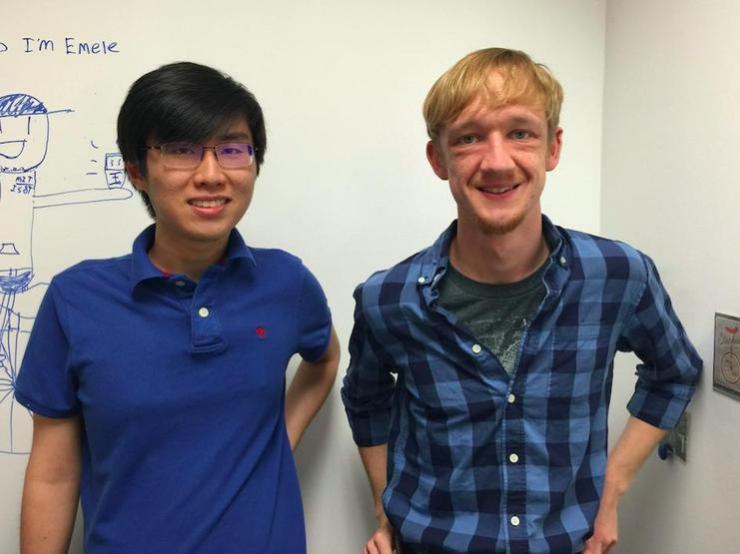 After a food-filled first week, IS&T summer interns Alex Cheung and Jon Beaulieu have been doing nothing but work–-and, okay, having a little fun too! Let's find out what they've been up to.
Alex, a computer science major at Wentworth Institute of Technology, has been fascinated with MIT since he was a freshman in high school. His aunt works for IS&T, so he asked her if she knew of any internships. She let him know that IS&T was hiring and suggested he apply. "I thought I'd give it a shot, since I'd always been interested in MIT," he says. He applied, interviewed, and got the job.
"It's my first-ever job, and I think working at MIT is really high up there," he says. "I was proud of myself for getting the job, but I was very nervous on the first day."
His supervisor helped assure him that he was right for the job. "My project supervisor is very understanding and helpful, he made me feel comfortable even on the first day," he says. "It was easy to talk to him."
Alex is working with the DevOps team at IS&T. He's helping make JUnit tests for MIT's APIs. "You have your original code that does the work, then you have the code that tests that code," he says. "I'm working on the code that tests the existing code for errors." Right now he's working on the Classrooms API and next he'll be working on the People API.
Jon is a soon-to-be senior at MIT, majoring in Electrical Engineering and Computer Science. He joined a mailing list for students searching for jobs and internships, and saw an email from IS&T. He looked into the internship and decided it could be right for him. He applied, interviewed, and was hired.
"I've had an internship before, in my hometown in Pennsylvania, but I'm learning a lot more at this internship," he says. "Even though the other one was in IT, it wasn't as in depth as this."
Jon is on the Enterprise Architecture Team and is helping them take a broader look at software at the Institute. The team is connecting applications, helping them transfer information, and also analyzing what is most useful for the developers at MIT.
Jon's focus is on automating the software used to register students for minors. "Right now, the system requires a lot of manual data entry. I'm trying to write software that will take unique identifiers and put them into a system. Then the system will take care of the registration for the student."
"My favorite part about the internship is that I get a level of independence," says Jon. "Even though I check in with my supervisor every day, he lets me solve problems myself. Instead of telling me exactly how to do something, he lets me think of a solution on my own. I appreciate that."
Alex and Jon, as well as the other interns, have also been enjoying weekly Lunch 'n Learns. Food has ranged from sandwiches to crab rangoons, and content has ranged from interview skills to APIs. "I really enjoyed the API presentation because it was interactive," Jon says.
Both Jon and Alex are looking forward to the rest of their IT-filled summer.