IS&T's Bathroombot lets you know when It's time for business
Future enhancements to the Bathroombot? Cartoon by Phil Johnson
It's a common problem in many workplaces: Nature calls and you get up to answer only to find the office bathroom occupied. You then either have to go find another restroom or put nature on hold and try your luck later. Either way, you've lost some valuable time in your work day and put a little extra strain on your bladder.
This was a problem one team in Information Systems and Technology (IS&T) decided to tackle. A few of them, fed up with rolling the dice on bathroom availability, put their tech skills to work noodling up a solution. The result is the Bathroombot.
Designed and built by members of IS&T's Hardware and Software Deployment Team, the Bathroombot is based on the principle that, when the door is closed, the bathroom is occupied. Using a magnetic contact switch, a Particle Photon Internet of Things development kit, and other inexpensive hardware, the Bathroombot detects when the door opens and closes to figure out when the bathroom is in use.
When the door is closed, the Bathroombot lights up a matrix of LED lights outside the bathroom, indicating it's occupied, like so: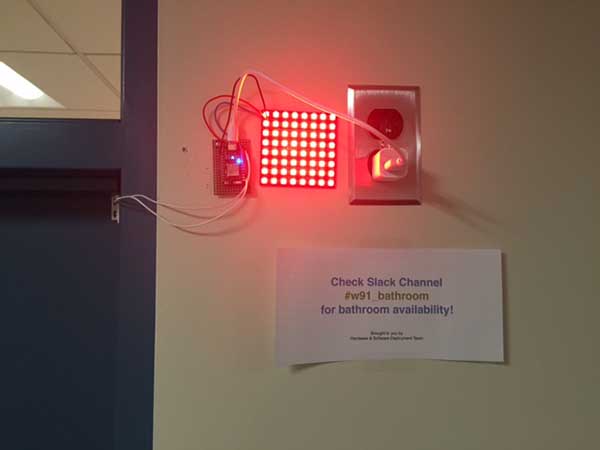 More usefully, though, the Bathroombot sends a message to an IS&T Slack channel using IFTTT, telling folks at their desks, who may not be able to see the bathroom or lights, when the bathroom is in use or open for business.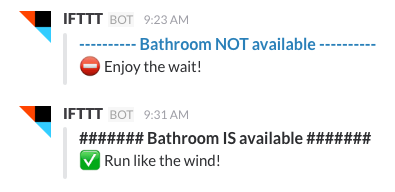 The team has made the parts list, wiring schematics, and software code available to all on Github. Feel free to build your own version and see if your office's productivity goes up. At the very least your bladder will thank you.