Let's play tag: Get free STOP plates for your laptop and tablet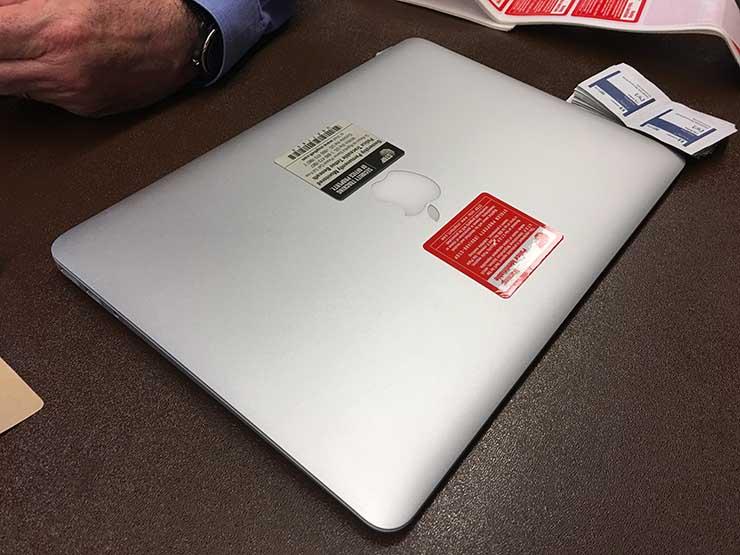 Do you love your laptop or tablet? Then take note: If you get your device tagged with STOP security plates, you have a much better chance of it not being stolen, or recovering it if it is. Consider the following true story.
Laptop tagging and registration is a free service for MIT community members. It's offered by Information Systems & Technology (IS&T), with the support of the MIT Police. The next laptop tagging event is on September 5, 2017 from 10 a.m. to 4 p.m. at the Computing @ MIT event in the lobby of the Zesiger Sports and Fitness Center (W35). All MIT faculty, staff, students, and affiliates are welcome.
How it works
It's simple. Bring your laptop or tablet to a tagging event and have a STOP plate permanently affixed to it. The plate number and device details are entered into a worldwide registration database and linked to your name and contact information. To register, you'll need the serial number of the item being tagged.
The STOP plate on a lost laptop or tablet can help return it to its rightful owner. The plate also works as a visual deterrent for thieves looking to quickly resell equipment. The plates are difficult to remove because of the use of superglue, but if thieves are successful at removing it, a "tattoo" stating that it is stolen property is left behind.
Extra measures
While IS&T and the MIT Police highly recommend STOP tags, they aren't 100% foolproof. So it's essential that you regularly back up the files on your devices. If you haven't done this, find a friend in CrashPlan, a backup solution that IS&T recommends and offers to community members at no cost.
Going away this summer and taking your laptop with you? Take precautions before you leave and while traveling.
If your laptop, tablet, or phone does get lost or stolen, report it, remotely wipe or track it, and change your passwords. Here's a handy guide that tells you how.
Let's end, though, on a positive note. The STOP site has a page of recovery stories and testimonials. Let them inspire you to visit a laptop-tagging table soon. Tag, your IT!