Something different in MIT's computer labs: Macs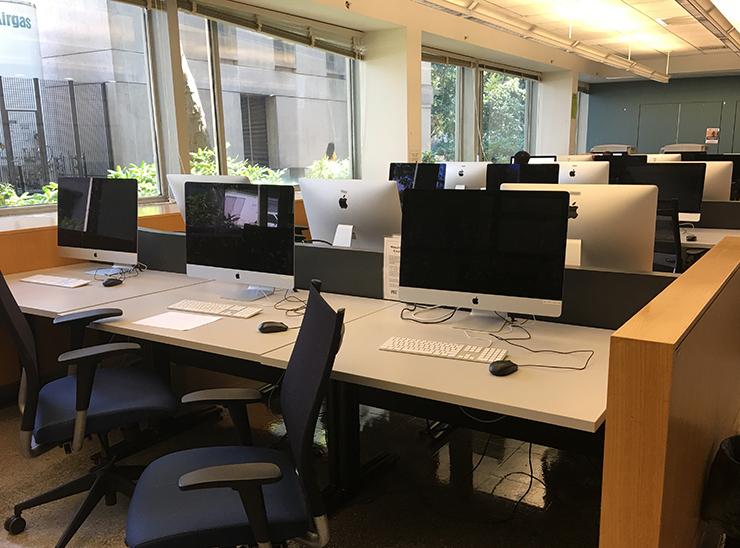 Computer labs have been a fixture on the MIT campus since the launch of Project Athena in 1983. Recently, along with the standard Linux-based Debathena terminals, you may have spotted Mac desktop computers in some of the labs. Here's why Information Systems and Technology (IS&T) is installing these macOS-based machines and where you can find them.
More software, more options
The Mac terminals in MIT's computer labs include several macOS-supported applications, like the Adobe Creative Cloud suite. But that's not all. The underlying Unix system on these machines provides additional software options and extensibility via MacPorts, HomeBrew, and PIP. Users can also develop in XCode directly.
For those looking to run software tools traditionally available on lab terminals, IS&T offers a Debathena virtual machine on the Mac desktops. Users can also SSH into the Athena dialup pool from any terminal.
Another plus: MIT community members can temporarily install any software they need on the Macs for the duration of their user session–or put in a request to IS&T to have it installed permanently.
Mac locations
A significant number of Mac desktops have already been installed in computer labs around campus. These machines, which IS&T will maintain and upgrade on regular cycles, can be found in the following locations (the number of Macs is listed in parentheses):
56-129 (20)
66-080 (4)
Simmons (6)
MacGregor (2)
E2 (2)
W4 (2)
W20 (2)
W51 (2)
W71 (2)
A full list of computer lab locations can be found on the IS&T website.
More information and support
A list of frequently asked questions about these Macs can be found in the IS&T Knowledge Base. If you have questions about them or need assistance, contact the Service Desk.