IS&T installing Office 2016 on imaged PCs and Macs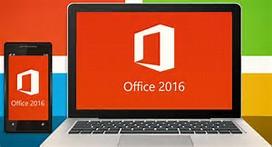 Image credit: pplware.sapo.pt
On Monday, April 4, IS&T began installing Office 2016 on new PCs and Macs imaged via DITR Lite Touch, DeployStudio, or the Apple Device Enrollment Program (DEP). Office 2016 is replacing Office 2013 for Windows and Office 2011 for Mac.
If you make use of DITR Lite Touch or DeployStudio and need to default to Office 2013 on Windows machines, you can continue to do so. For DITR Lite Touch, this will be an option from the drop-down menu. For Mac offerings, please contact the Endpoint Management team so we can set you up with a different DEP workflow.
For Office 2016 documentation and downloads, see IS&T's Office page. If you have questions or concerns, please send email to endpointmanagement@mit.edu.