The Reporting User Group: Where it all adds up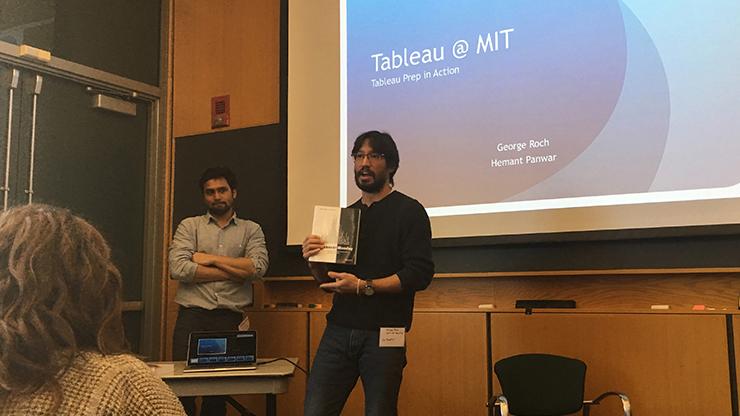 Do you work with Tableau and Cognos, MIT's data reporting tools? Do you have questions about data in the Data Warehouse? Then make the Reporting User Group part of your equation. Led by staff from Information Systems and Technology (IS&T), this group offers hands-on help at weekly meetings throughout the year.
Drop-in sessions
Most of the meetings are drop-in sessions, with no appointment required. If some aspect of a report has you stumped, just bring along anything you need to discuss the issue (including your Duo device). You can also catch up with other Reporting users and share information and tips with them.
Third Thursdays
The format changes on the third Thursday of each month, when the Reporting User Group offers a formal training session. These classes cover Cognos and Tableau, as well as some data-related topics. Recent sessions have included: Cognos Fundamentals, Cognos Advanced, and Tableau Fundamental.
Space in the Third Thursday sessions is limited and reservations are required. Upcoming sessions are listed on the Data Warehouse and Reporting Support Resources page; sign-up is also available from this page starting one week before a class.
When and where
The Reporting User Group meets on Thursdays from 1:30 to 3 pm in Building 5-232. Third Thursdays are usually held in the Atlas Service Center conference room (Building E17-134) and, when that room is not available, in various classrooms on campus.
Questions or suggestions?
If you have questions about the Reporting User Group, Tableau, or Cognos, or would like to suggest a training topic, send email to reporting-help@mit.edu. For help with Data Warehouse questions, send email to warehouse@mit.edu.