National Cybersecurity Awareness Month (NCSAM): Boost your IT security awareness with online training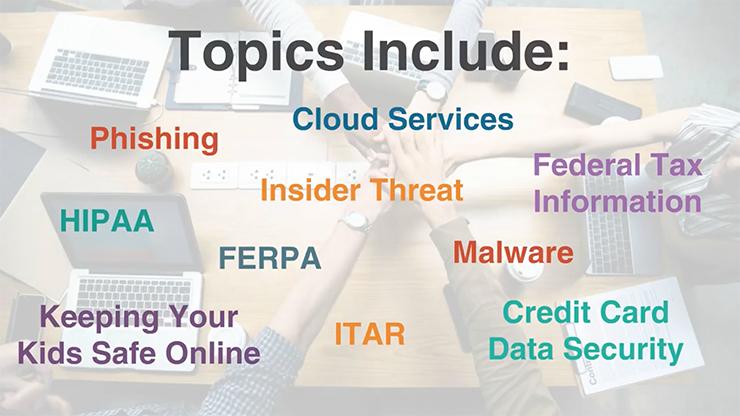 October is National Cybersecurity Awareness Month, a great time to make sure your digital life is secure. IS&T is sharing a series of security-related videos and articles throughout the month. Read on and play it safe!
In a digital world, keeping up with cybersecurity comes with the turf. So how can MIT community members best protect themselves and the Institute's data?
Knowledge and awareness are key tools in your cybersecurity belt. If you understand how cyberattacks work, you can reduce your chances of being deceived.
Online training
Information Systems and Technology (IS&T) offers the MIT community free online courses on information security. These materials, developed by the SANS Institute, include short videos, interactive quizzes, and bundled courses. Available through the Learning Center in Atlas, you can easily get to them through IS&T's Security Awareness and Education page. You can also find them in the MIT Learning Center Course Catalog, under the Information Security subcategory.
IT Security Awareness I
This 30-minute course is appropriate for all MIT community members. Its 10 videos cover data and physical security, password protection, mobile device safety, and common security risks, such as social engineering and phishing.
The IT Security Awareness I learning bundle also includes seven Skill Practice modules that provide plausible examples and test your security savvy through guided simulations and points-based challenges.
IT Security Awareness II
Building on IT Security Awareness I, this course covers encryption and malware, how to enhance IT security when working remotely or traveling internationally, using social networks, and handling Personally Identifiable Information (PII), among other topics.
Stand-alone IT security modules
Beyond these basic courses, you can explore 17 stand-alone modules on specialized security topics – ranging from cloud services to HIPAA to protecting your kids online. You can find them in the MIT Learning Center Course Catalog under the Information Security subcategory.
Support
If, for compliance purposes, you need a completion report for the IT Security courses, contact Learning Services at training@mit.edu.
If you have questions about IT security, reach out to your local IT support or the IS&T Service Desk. If you're concerned about an IT security threat or incident, contact the IS&T Security Team at security@mit.edu or IS&T Security.