IS&T announces Spring Cleaning event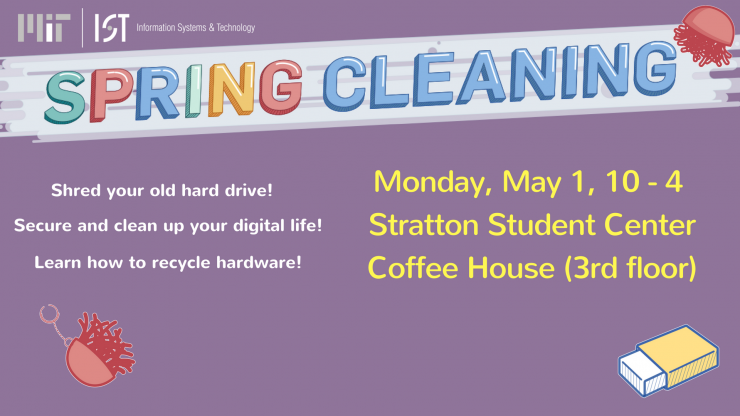 It's that time of year when the snow melts, birds start singing, and we start thinking about swapping our winter layers for warm-weather clothes. It is also a time when many of us think about decluttering our lives for a new season. Technology may not be the first thing you think of when you hear the words "spring cleaning," but it should be! It is important to take the time to think about just how clean your computer really is, inside and out, and Information Systems and Technology (IS&T) is here to help.
Clean and secure your computer
Everyone in the MIT community is invited to stop by IS&T's Spring Cleaning event on Monday, May 1 from 10 a.m. to 4 p.m. in the Stratton Student Center Coffee House (Room W20-308). Bring your laptop and take advantage of the following services:
Have our computer security team give your laptop a "check-up" to make sure you have all of the best antivirus and backup software installed on your device.
Learn tips and tricks for cleaning your keyboards and screens
Get your laptop tagged for security and recovery purposes.
Grab a YubiKey for use with Duo two-factor authentication.
Get rid of old hardware and media
Representatives from the MIT Property Office and the MIT Recycling and Materials Management Office will be on hand to decommission old equipment and can provide information on MIT's TechnoCycle and other hardware recycling initiatives.
A Shred-it representative at the event can help with paper shredding and hard drive destruction. You can bring along the following items:
Any paper you no longer need, including documents and manila folders (don't worry about removing staples, paper clips, or binder clips)
Hard drives
Old digital tapes
CDs
Flash/thumb drives
Please note that while there is no limit to the amount of paper you can bring, IS&T can only accept 5 non-paper items (hard drives, CDs, digital tapes, flash/thumb drives) per person.
The Shred-it rep can answer any questions you may have on what happens to your materials once you drop them off. You can also find out how to host a Shred-it cleanout event for your department, lab, or center.
Cleaning up before you leave MIT
IS&T staff will be on hand to meet with graduating seniors and anyone else soon departing the Institute to walk them through the process of offboarding. Find out what happens to your Institute accounts, such as email and Dropbox, and how you can preserve your files and data before you leave.
Tidy up your finances with a student job!
If you're an MIT student, BeaverTech reps will be on hand to chat about employment opportunities with IS&T. We'll pay you to solve problems!
Be rewarded for your efforts!
Spring Cleaning shouldn't be all work and no play! Grab a checklist at the concierge desk when you walk into the event. As you complete the tasks listed, have an IS&T staff member initial your form. If you turn in a completed checklist at our concierge desk on the way out, we will give you a $5 Starbucks gift card.
Social-media-savvy folks can earn an extra $5 Starbucks card by showing a concierge a screenshot of a Snap from the event using our custom MIT/IS&T Spring Cleaning geofilter.
More information
To learn more about Shred-it, visit http://www.shredit.com/.
For more information on MIT's recycling services and green initiatives, see: http://web.mit.edu/workinggreen/reuse/recycle.html.
If you have questions about the services offered at the Spring Cleaning event, please contact Steph Lavallee at stephl84@mit.edu.