Tech tips for 'Tute travelers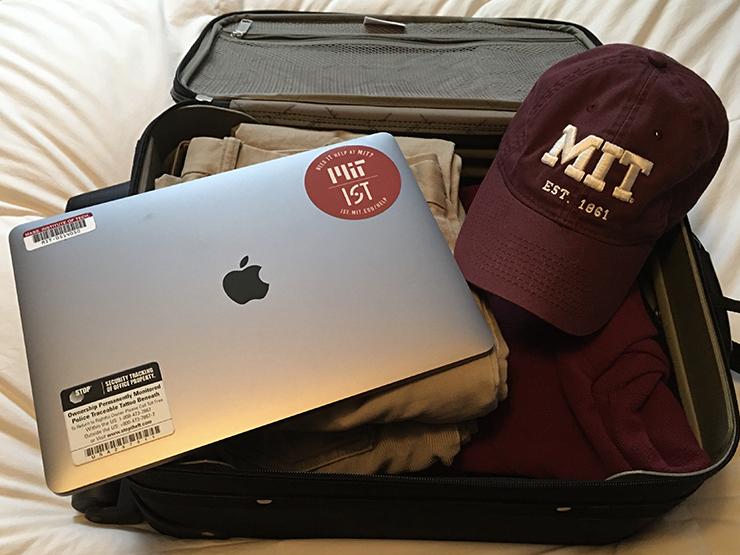 MIT's Thanksgiving and winter breaks are almost upon us! If you're planning to travel during the break and are bringing along a computer, laptop, or smartphone, here are some easy things to do before you go and while you're away to make your computing experiences away from campus as smooth and safe as possible. All of these products and services are made available to MIT community members through Information Systems and Technology (IS&T) for no additional charges.
Get your laptop and/or tablet tagged
If your laptop and/or tablet doesn't have a STOP Theft tag on it, then go to the Atlas Service Center today and get one before you leave.
These tags are highly visible deterrents to thieves. But don't just take our word for it; listen to the following true story about the time STOP tags prevented some MIT laptops from being stolen.
BTW, STOP tags can also be applied to other devices, like for example, that oscilloscope you'll no doubt be traveling with.
We're busy tagging laptops, tablets, & even oscilloscopes for @MIT folks FREE at the Z-Center until 4! @STOPTheft1 pic.twitter.com/Fdf2x5dVfJ

— MIT IS&T (@MIT_ISTnews) September 6, 2016
Get your device tagged for no charge at the IS&T Service Desk in the Atlas Service Center, E17-106, Monday through Friday from 8 a.m. to 5 p.m.
Install anti-virus and threat detection software
Hopefully, you've already done this but if not, install anti-virus software before you head to the airport. It'll help protect your computer from viruses, malware, adware, and other evil wares. If you don't already have anti-virus software installed, then IS&T offers MIT community members Sophos anti-virus for no charge.
IS&T also strongly recommends that everyone at MIT install CrowdStrike for enhanced threat protection.
If you think you don't need to worry about malware because you use a Mac, think again: Computers running macOS can be compromised and should be protected.
Both Sophos and CrowdStrike are available for download from the IS&T software grid. Total cost to MIT community members: $0
Encrypt your hard drive
Whole disk encryption will protect all the data on your disk drive, making it a lot harder for evil-doers to get at it, even if they manage to get their hands on your machine while you are, say, sunning yourself on some remote beach. Enable it now, for you and your loved ones.
Here's yet another way to #BeCyberSmart: Protect your data and information by encrypting your hard drive. It's easy - and smart! 

Here's how, for those at @MIT: https://t.co/o66YlonBa2#NCSAM #cyberaware #cybersecurity pic.twitter.com/98etkATEMT

— MIT IS&T (@MIT_ISTnews) October 23, 2019
Learn how to enable BitLocker on your Windows machine or how to enable FileVault encryption on your Mac. No need to take your wallet out, because this is all available to you courtesy of the 'Tute.
Turn on your computer's firewall
Your computer's operating system comes with a personal firewall, which you should enable to help prevent unauthorized access to the files on your computer. The best part is, unlike other walls, this one comes with you when you travel.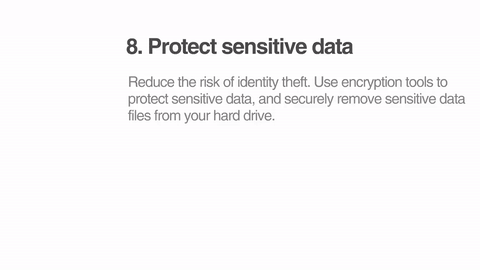 It's really easy to turn on the firewall on your Windows computer, or on your Mac, or on your Red Hat Linux machine - no credit card, cash, or Bitcoin required.
Make sure your apps and software are up-to-date
Before hopping in that car, plane, train, bus, or boat make sure all of your apps and software, including operating systems, are up-to-date with the latest patches, updates, and releases. This will ensure you have the most secure versions of everything and are as protected as possible against threats while you're away.
Better yet, enable auto-updates on your devices so you won't even have to think about it. Here's how to enable automatic updates on a Mac and here's how on Windows machines.
Have you enabled automatic OS/software/app updates on your phone and computer yet? If not, you should so your device and data will be automatically protected from vulnerabilities and you can, you know, relax. #cybersecurity pic.twitter.com/jkjfbD4U77

— MIT IS&T (@MIT_ISTnews) April 8, 2019
Also, be sure to download the latest release of CertAid and renew your MIT certificates before you go if you'll be gone when the current ones expire, usually in July. Then you can really relax and enjoy your vacation!
The best part: All of this piece of mind can be had for no charge.
Pick up a YubiKey
You should have more than one device registered for use with Duo two-factor authentication. YubiKeys are a great option in case your primary device goes AWOL. They also work without WiFi or cell service, so they're particularly good for use overseas to make sure you can always connect to MIT websites and services.
YubiKeys are available in both USB-A and USB-C formats from IS&T.
You can request a YubiKey online or stop by the IS&T Service Desk in the Atlas Service Center to get one. Either way, it's on the house!
Back up your devices
Be sure to back up your phone, tablet, or laptop before leaving, just in case something unexpected happens to it.
For computer backups, MITers have access to CrashPlan, a cloud based service, which will come in handy if your laptop does get stolen or meets an untimely demise while you're away from home.
Download CrashPlan now from the IS&T software grid and back up your laptop before you skedaddle.
Use the MIT VPN or eduroam
MIT's Virtual Private Network will give you access to all of the resources on MITnet while you are traveling.
Even if you don't need access to MIT resources, it's still a good idea to always connect to the MIT VPN when on public (non-secure) WiFi networks, as it will ensure all of your activity is encrypted and private.
We can't emphasize this enough, particularly during the summer travel season: If you're away from campus and using public #WiFi, always connect to the @MIT VPN to ensure your activity is encrypted and secure.

All the details here: https://t.co/dVpCcUv60m #cybersecurity pic.twitter.com/6BoBV5q2rw

— MIT IS&T (@MIT_ISTnews) July 22, 2019
You can download the Cisco AnyConnect VPN client for your laptop. There are also mobile versions of the Cisco client for use with your phone or tablet (check your app store).
Once you've got the Cisco VPN client installed, learn how to connect to the MIT VPN using Duo two-factor authentication.
Also, while you are globetrotting, remember that your MIT Kerberos credentials get you access to the eduroam Wi-Fi network, which is available at over 12,000 locations worldwide. eduroam is free and secure, providing encryption of your data and activity similar to that of MIT's VPN.
All of this, of course, is available to you as an MIT community member for the grand total of... nothing!
Never leave your device unattended
Last but definitely not least, when traveling (or any other time) don't forget about the physical security of your device. Don't leave your laptop, phone, or tablet in an unsecured public area, especially if you're logged on. The physical security of your machine is just as important as its digital security.
Of course, keeping an eye on your device doesn't cost you a cent.
Further help
For a more in-depth list of technology tips for travelers, check out this page in the IS&T Knowledge Base.
If you have questions or need help with any of these things, contact the IS&T Service Desk.
Happy (and safe) travels!