Changes coming to the Student Center Athena cluster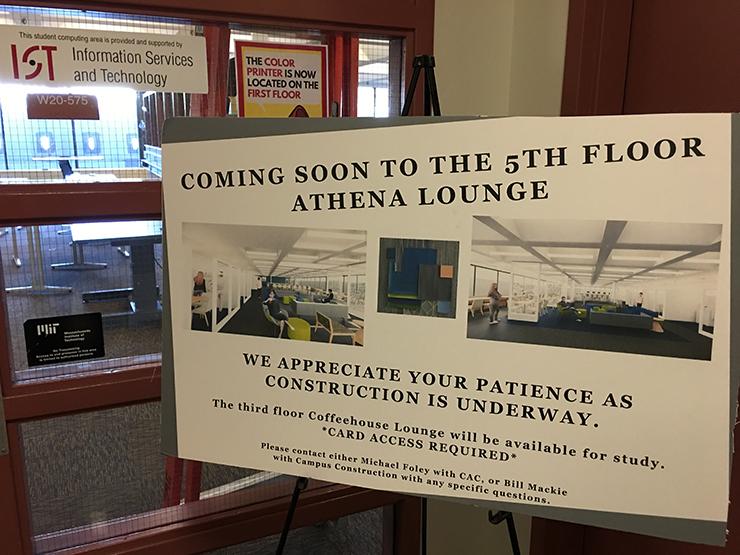 If you stop by the Athena cluster on the top floor of the Stratton Student Center (W20-575) these days, you'll notice that it is closed for renovations. But don't worry: a rejuvenated space is coming soon and, in the meantime, Athena computing resources are still available.
New student lounge coming
The Athena cluster in the Student Center is being converted into a student study lounge, which will include sitting areas, rooms for group work, computing resources, printers, and open study spaces. This renovation is part of an ongoing effort to enhance and update spaces in the Student Center.
When the work is completed this spring, W20-575 will continue to provide technology resources, including 24x7 access to workstations and printers.
Athena hardware temporarily moved
Relocated during the construction work, the Athena hardware is still available for use. Three workstations (two iMacs and one Dell desktop) and two black-and-white printers can be found in the Coffeehouse Lounge on the third floor (W20-308). The color printer has been moved to the first floor, near the two Athena Quickstations.
Other Athena locations
Athena workstations and printers can also be found in many other locations around campus. Buildings 1 and 56 house the largest collections of workstations on campus, in rooms 1-115 and 56-129, respectively. A complete list of Athena facilities at MIT can be found on the IS&T website.
If you have any questions, contact the IS&T Service Desk.