Get personalized tech help at MIT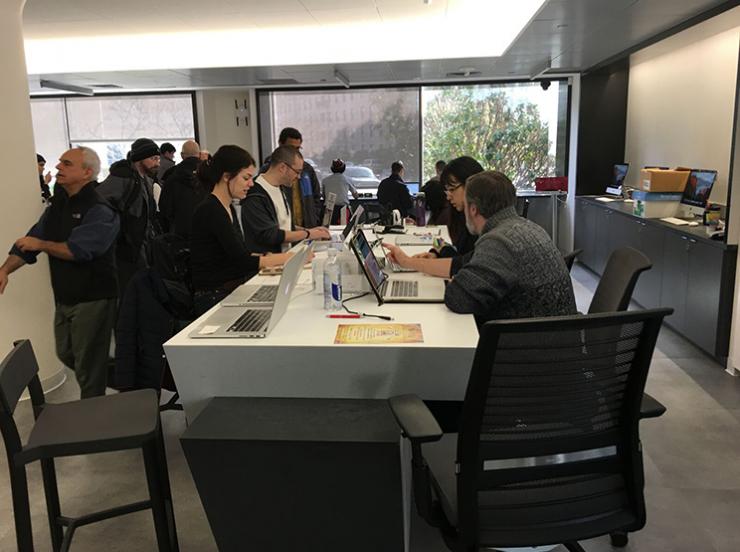 Information Systems and Technology (IS&T) has a walk-in Service Desk in the Atlas Service Center whose staff offer hands-on technology help to anyone in the MIT community. Most of the services are provided at no cost. Located on the first floor of E17, the IS&T Service Desk is open every weekday from 8 am to 5 pm.
Here's an inside look at the Service Desk scene.
Friendly atmosphere
The Atlas Service Center has a modern feel and offers seating in a waiting area. The front desk staff can direct you to the right person for the help you need. The IS&T Service Desk is reminiscent of the laptop section at Best Buy – chargers galore!
Now let's take a quick look at a few of the services offered here.
Duo two-factor authentication
Everyone in the MIT community is required to use Duo Security to access Touchstone-enabled applications and websites, such as Atlas and WebSIS. While most people use their mobile phones as their Duo authentication device, it's a smart move to register more than one device so that you're never locked out of your digital life.
The Service Desk provides free Yubikeys to members of the MIT community. These are small devices which can be clipped on a keychain and used to verify your identity via Duo. These are especially helpful in the event of damage to or loss of your Duo-enabled mobile phone.
Service Desk staff can assist in Yubikey setup and Duo device configuration.
Computer repair
The Service Desk is authorized to repair Apple, Dell, and Lenovo Think-branded computers right on campus; the turnaround time is the same as going directly through the vendor. Software repair services include operating system installation, data recovery, and network and wireless troubleshooting. Only out-of-warranty computers will be charged for parts. No labor charges!
Student Laptop Loaner Program
IS&T funds a Student Laptop Loaner Program for students who need a laptop for a class or academic work, and either can't use their personal laptop because it does not meet specific requirements or do not have a personal laptop. Laptops are available to students for up to a semester at a time. For more information, program guidelines, and information on how to request a laptop go to the Student Laptop Loaner Program page.
Q&A
If you're experiencing an issue with MIT's equipment, websites, or licensed software, the Service Desk can help. Trained Service Desk staff can assist you with any of IS&T's products and services. Their goal is to help you find solutions to your digital roadblocks. Feel free to come to them for troubleshooting.
The Service Desk can also refer you to appropriate how-to resources for training as needed.
Support for all
The Service Desk's helpful staff are ready to assist with your computing problems, large or small. When you need help, stop by the Atlas Service Center in E17 or, if you prefer, contact the Service Desk online or by calling 617.253.1101.