Webex: Collaborate with team members anytime, anywhere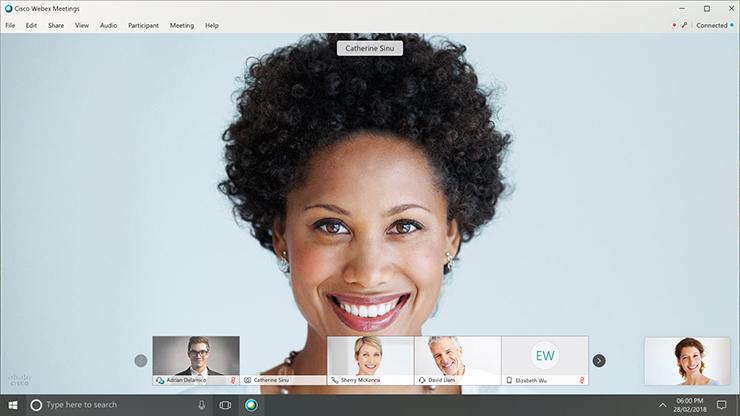 Whether it's a regular weekly meeting or a one-off occurrence, how do you connect with colleagues when they're in other locations? From conference calls to video conferencing, your best bet is Cisco Webex. This audio and web conferencing tool is available to all MIT faculty, students, and staff at no cost.
If you opt for a video call, the service provides multiple viewing modes, including full screen, multiple feed, or side-by-side with screen sharing. You can switch presenters, share an application or what's on your desktop, annotate documents together, sketch ideas on a virtual whiteboard, record meetings, and organize or join meetings from your smartphone or tablet. 
Here's a quick look at how it works.
Create a meeting
The Webex interface lets you schedule a meeting, invite attendees, set duration, and specify whether a meeting is recurring. You can also hold impromptu meetings without prior scheduling, using your "Personal Room." Personal rooms use a unique URL based on your Kerberos identity, making it easy for attendees to find and join them.
Visit the Webex Landing Page in the Information Systems and Technology (IS&T) Knowledge Base for more information and instructions.
Call into a meeting
Remote team members can join audio meetings using their phone or the microphone on their computer. Multiple team members can call in to the same meeting. You don't need to call them individually via a speakerphone at MIT.
Share your screen
With Webex, a designated presenter in the meeting can share his or her screen with the rest of the team. Each team member will be able to view the screen on his or her own Webex app. This feature is helpful for meetings taking place in a room without a projector.
Webex allows the presenter, or the entire team, to annotate the document being shared. There are annotation options such as the drawing, text, and pointer tools.
Record meetings
If a meeting is likely to be dense with details, Webex can help. The meeting's host can record the meeting and the file will be saved to the Webex client. It can then be downloaded and converted to any of a variety of media player formats and shared for review. Downloading the files and then deleting them from the Webex client helps MIT stay below Webex storage quotas.
Support
For instructions on how to use Webex, see IS&T's Webex Landing Page in the Knowledge Base. If you still have questions or need help using Webex, contact the IS&T Service Desk at servicedesk@mit.edu or 617.253.1101. You can also submit a request online.