Wired to WiFi: The evolution of IS&T's on-campus network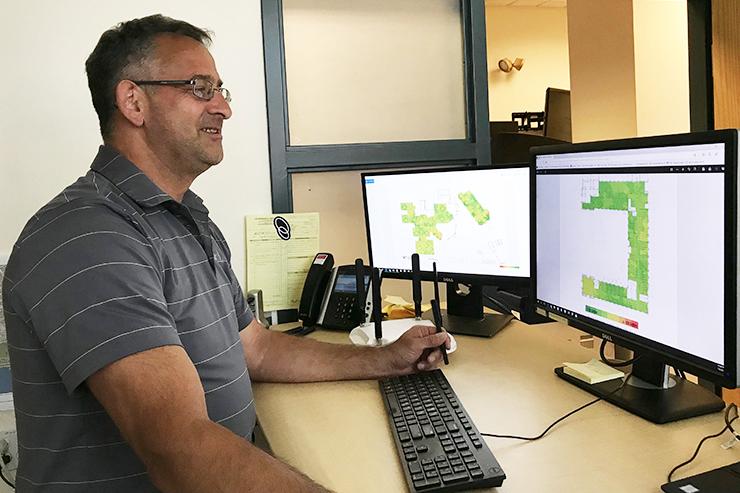 IS&T's Jim Copeland looks at a heat map displaying WiFi coverage. Photo: Nicole DeSimone
Back in the day (starting in the mid-1970s), wired networks were the only option at MIT. At the Lab for Computer Science and the AI Lab, there were experimental Ethernets as well as Chaosnet and LCS Net. Next, cables connected desktop computers and printers in local area networks (LANs). MITnet, the campus network, wasn't launched until the mid-1990s and it too was originally a wired network.
The first wireless (WiFi) networks at MIT were set up about 20 years ago through one-off efforts by a few departments in labs and library study carrels. Information Systems and Technology (IS&T) began a more systematic approach to deploying WiFi on campus in 2001.
Initially, IS&T's WiFi network complemented its wired network; WiFi was primarily a "nice to have" resource in common areas. Over the years, as more community members took to using laptops, tablets and mobile phones as their primary devices, MIT's WiFi network became the main means of connectivity for most people on campus, especially in the residence halls.
As the transition to WiFi gained traction, IS&T's network design philosophy evolved from a focus on coverage to prioritizing quality and strength of signal. Originally, IS&T put wireless access points (APs) in hallways because they were easy to maintain. Now IS&T's WiFi deployments are much denser. Staff on the Infrastructure Operations team have moved access points into rooms so that they're closer to client devices, minimizing obstruction of signal. IS&T staff also use tools to calculate expected signal loss through different types of construction material. This technique was used, for example, when IS&T upgraded the WiFi in Baker House (W7) with its terra cotta brick walls.
IS&T's recent upgrade of the wireless controller infrastructure enables many tools to automatically maximize quality of service in the different types of campus environments. The upgrade has also enabled IS&T to set profiles for different types of environments, a necessary step in modernizing MIT's wireless infrastructure.
For large lecture halls, such as Kresge Auditorium, IS&T staff now prepare initial designs with predictive models, including heat maps showing coverage. They create specific channel assignments for each AP to maximize available bandwidth.
After each WiFi upgrade, IS&T staff do a post-installation analysis and walk-throughs of different areas on campus to assess the effectiveness of any changes. These real-world results inform the next set of predictive models, leading to improved WiFi access throughout the campus.
The team's next planned advance is to create AP and radio frequency (RF) groups and, where applicable, install panel antennas that direct RF energy, minimizing co-channel interference.
Advice for end users
While IS&T continues to actively upgrade network service on campus, there are steps end users can take to improve the performance of their wireless devices. To learn more, see The Wireless Networks at MIT in the Knowledge Base.