« Back to Software Grid
Adobe Creative Cloud (CC) is licensed for use by MIT faculty and staff on MIT-owned machines only.
How to Obtain
Licensing
Faculty/Staff
Before you submit your request to access MIT's Adobe license, verify you don't already have access.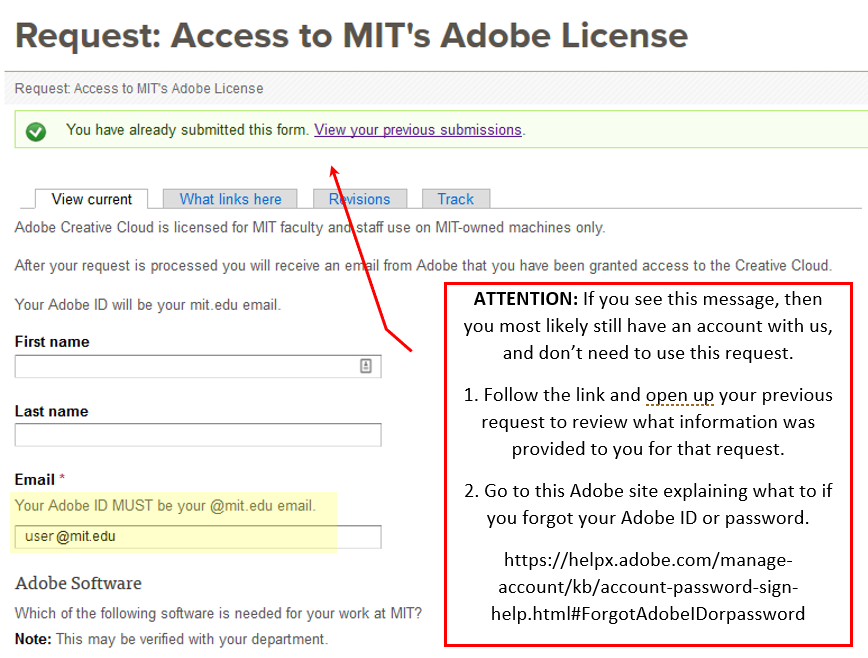 View the above image to see what to look for when opening the request form.
If you are still unsure: check to see if your systems administrator requested this for you, then go to the Adobe help page review Forgot Adobe ID or password to verify that you already exist in the system.
Request to have MIT's license attached to your Adobe ID (MIT certificate required)
After your request is processed you will receive an email from Adobe that you have been granted access to the Creative Cloud and an email from us with additional help.
Students
Affiliates
It is recommend that your department purchase Adobe VIP licenses through Darren Gullen at GovConnection. These licenses are transferrable, unlike licenses purchased directly through Adobe. For more information see the Adobe CC FAQ.
Lincoln Lab
Lab or multi-user machines for faculty/staff use
Using
About this Version
New connected mobile apps; Innovation across all desktop tools; Every asset at your finger tips, including Adobe Stock. Everything is connected and up to date with Adobe CreativeSync.
Software included in MIT's Adobe Creative Cloud license