Incoming students: Getting started with IT @ MIT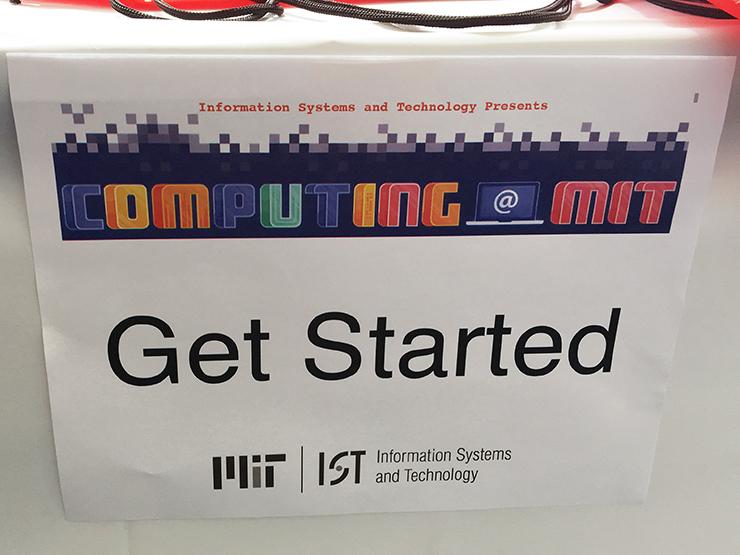 Being an incoming MIT student can be daunting. You're probably getting bombarded with checklists of what to do and buy, from creating your Kerberos account to setting up your dorm room. Don't worry, Information Systems & Technology (IS&T) is here to guide you through everything you'll need to know about IT at MIT.
Hardware recommendations
Before arriving at MIT, make sure you have a laptop or desktop computer that meets the demands of Institute coursework. IS&T provides recommended configurations for Apple, Dell, and Lenovo Think-branded computers and discounts are available through each vendor's online education store.
IS&T also offers computer repair services to the MIT community and is fully certified to repair Apple, Dell, and Lenovo Think-branded computers. If your computer is damaged or needs support, bring it to our team in MIT's Atlas Service Center in E17-106, Monday through Friday from 8 a.m. to 5 p.m. You can also request help from the Service Desk anytime via email, phone, or web.
Operating systems
Once you've confirmed that your hardware meets the minimum requirements, it's time to check out your operating system (OS). For Macs, IS&T recommends macOS High Sierra (10.13) or above, while Windows users should have Windows 8.1 or later installed. IS&T also provides the Red Hat Enterprise distribution of Linux.
All of these operating systems (and much more) are available to MIT students through IS&T's software grid.
Loaner laptops
If you don't have a computer that meets the minimum requirements outlined above, IS&T offers a limited number of loaner laptops to students for academic use. If you need a loaner laptop, request it as soon as possible, as the demand for them is high.
Mobile devices
There is no required mobile OS per se for phones or tablets; IS&T supports the Android, iOS, and Windows 10 mobile platforms. You may also want to browse our discounts on cellphone plans.
Additional resources
For answers to other questions about computing at MIT, check out these resources before you arrive on campus:
IS&T's website: A goldmine of information regarding everything IT at MIT. It even has a Students page to help you get started. There you can find a checklist of things to do as a new student, like signing up for Kerberos, Duo, and more.
Knowledge Base: MIT's searchable database of IT information. You'll find how-tos and FAQs on almost any IT topic, like how to install a certificate or learn about Kerberos.
MIT Mobile app: A handy resource offering the latest MIT news, support resources, by-the-minute shuttle schedules, dining options, and more. Download it to your phone, and poke around …it's free!
Finally, be sure to follow IS&T on Twitter, Facebook, Instagram, and/or Snapchat (username: mit_ist) to get important news and updates about IT at MIT.
Watch for more informational blog posts for incoming students and contact the IS&T Service Desk if you have any IT questions or concerns.