Incoming students: Creating an MIT online identity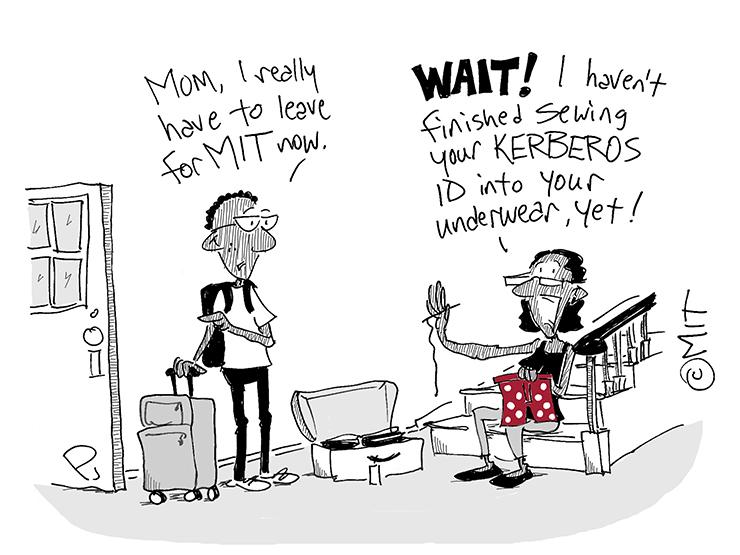 Be sure to sure read our earlier article for incoming freshmen: Getting Started with IT at MIT
You're coming to MIT! You've probably been busy with tasks like making travel plans, picking out things for your dorm room, and buying a new computer. Time to take a breather! Well… not quite. You still need to create your digital identity at MIT before you arrive on campus.
Kerberos
Your Kerberos account (sometimes referred to as an Athena or MIT account) will grant you access to a vast array of technology services and resources on campus. By now, you have hopefully already created your Kerberos account. If you haven't, contact the IS&T Service Desk for help in doing so.
If you have successfully created your Kerberos account, read on for the next steps in creating your digital identity at MIT.
Email
Once you get your Kerberos account, you'll be able to login to your MIT email. Your email address will be YourKerberosID@mit.edu. You can login using an email client or through a web browser at owa.exchange.mit.edu.
MIT suggests Outlook for your email needs. Outlook is part of the free Microsoft Office bundle available to all MIT students.
If you'd like to forward your email to another email account, reach out to the Service Desk for assistance.
Duo
If someone cracks your password, they could have access to sensitive information… but not if you have Duo, the two-factor authentication tool. By adding a second security measure, Duo verifies your identity via a physical device, such as your smartphone, a landline, or a hardware token (YubiKey). This ensures secure access to your Kerberos account.
Download the Duo mobile app to get started. Then go online to register your device. If you need help, there's a step-by-step guide with screenshots for smart phones and a comprehensive FAQ.
IS&T also strongly recommends that you register a backup device for use with Duo in case something happens to your primary device. In addition to a smartphone, you can register a tablet or a non-smart mobile phone or landline. You can also use an Apple watch with Duo. Once you get to campus, you can get a YubiKey for free from IS&T, which is a particularly good backup device, since it doesn't require Wi-Fi or celluar service.
MIT certificate
An MIT certificate lets you access secure web services, such as Student Information Systems, without having to type in a username and password. You need to install a certificate for each web browser on every device that you use. MIT recommends that you use CertAid to install certificates for Chrome, Internet Explorer, and Safari.
To install a certificate on Firefox, go to the Get an MIT Certificate page and fill in your credentials.
Certificates must be renewed yearly by July 31.
Get help 24x7
Once you're set up with your Kerberos account, you'll have online access to a wide range of MIT resources and information. Look for additional blog posts to help you get acclimated to the IT environment at MIT. Be sure to contact IS&T if you have any questions or concerns.
If you need help with IT at MIT, in-person assistance is available from IS&T Monday through Friday from 8 a.m. to 5 p.m. in the Atlas Service Center in E17-106. The IS&T Service Desk can also provide help 24 hours a day, 7 days a week via phone at 617 253-1101, email at servicedesk@mit.edu, or the web at ist.mit.edu/help.