Best practices for working remotely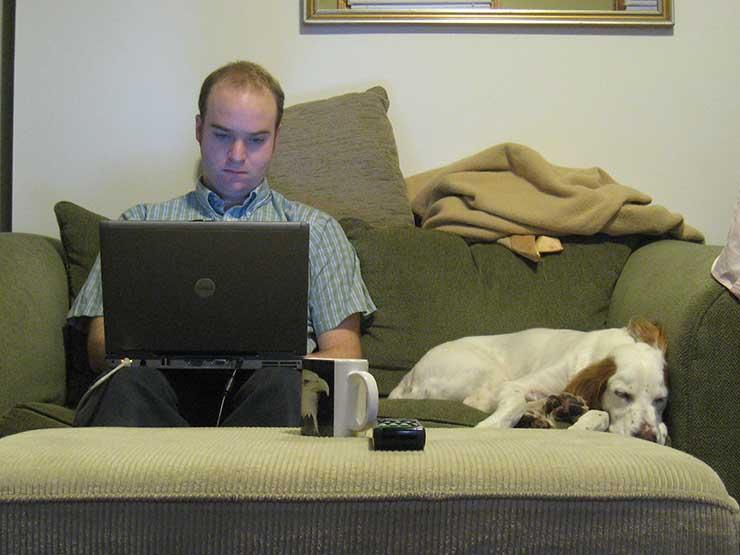 Photo: Flickr/Logan Ingalls CC BY 2.0
Information Systems and Technology (IS&T) has licensed and supports a number of tools that enable remote working and collaboration. The department recommends that MIT community members adopt a set of best practices when working away from campus. Following these tips will maximize the security of your applications and data and make remote working as seamless as possible.
Connect to MITnet using Cisco AnyConnect VPN
When working remotely, IS&T recommends connecting to the MIT network (MITnet) using the Cisco AnyConnect Virtual Private Network (VPN) client. This ensures a consistent experience regardless of where you're connecting from and gets around potential access restrictions imposed by your ISP, such as blocked ports and firewalls. Connecting via VPN is also highly recommended whenever working on a public WiFi network, since it will route your traffic through MIT's private, secure network. The Cisco AnyConnect VPN client can be installed on your computer, laptop, and mobile devices.
Register multiple devices for Duo two-factor authentication
VPN access to MITnet is one of many MIT systems that require two-factor authentication (2FA) through Duo. To ensure that you can connect to MIT systems in the event that your main authentication device becomes lost or unusable, IS&T recommends that you register at least two devices for Duo authentication. In addition to a smartphone, users can register tablets, non-smart cell phones, landlines, and USB hardware tokens (which can be obtained for free from IS&T) for use with Duo.
Install MIT certificates on home devices
MIT certificates allow you to access secure web services at the Institute, such as Atlas and Stellar, and should be installed for each browser on each device you use. Certificates expire every year at the end of July and must be renewed. Make sure that certificates on any home device you may use when working remotely are installed and up to date.
Host virtual meetings and collaborate on the fly using Webex
MIT community members can use Webex to host video and audio conferences with remote coworkers from any computer. Participants can join from any device, including smartphones and tablets, with a supported browser. Webex lets participants share files, applications, or their entire screen with other attendees.
If you work remotely but still want to collaborate with coworkers, you can do this via your Personal Room in Webex. This dedicated virtual conference room, with a permanent URL, lets you share your screen or selected applications with others without having to schedule a meeting ahead of time. A dedicated phone number lets you hold impromptu conference calls while virtual whiteboards allow for real-time interactive brainstorming. And when you're "in" your room, others can "enter" your room and chat with you.
Manage and share passwords using LastPass
Using simple passwords or the same password for multiple applications is never a good idea, but it becomes even more of a risk when working away from your office or home. To make it easier to generate and recall secure unique passwords for each website and application you use, MIT has licensed LastPass Enterprise for all members of the community.
With LastPass, you only need to remember one master password to access your entire collection of logins on Windows, macOS, and mobile native clients, as well as any web browser. You can also link your personal LastPass account (if you have one) to your MIT account, so that both can be accessed through a single login.
LastPass is also a secure way to share passwords with coworkers in different locations. With LastPass Enterprise you can share single passwords or entire folders of passwords with other users securely; IS&T does not recommend sending passwords via email or text.
Manage and share files using Dropbox
Storing your files in Dropbox enables you to access all of them seamlessly from any computer or device. MIT has licensed Dropbox Business for use by all members of the MIT community; this service provides 200 gigabytes (GB) of cloud storage per user and automatic file synchronization across devices. You can also connect a personal Dropbox account to your MIT Dropbox Business account, which lets you access both accounts on your computer or devices.
Dropbox also makes it easy to share files with remote coworkers. You can even set passwords or expiration dates for shared links to provide extra security. In addition, entire folders and their contents can be shared with individuals or groups of Dropbox users.
More information on these and other tools and services IS&T supports can be found in the department's Knowledge Base.