It's MIT certificate renewal season!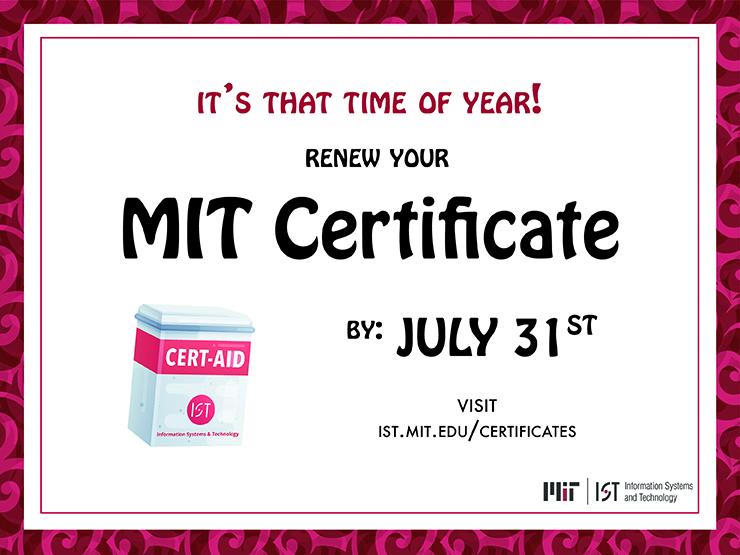 The MIT certificate(s) installed on your computer will expire on July 31, 2019. You must renew these certificates by that date to retain access to MIT's secure web applications, including Atlas, WebSIS, Stellar, software downloads, and more.
You'll need to renew the certificate for each browser on every computer you use. Renewal consists of downloading replacement certificates for your expiring ones.
Note: If your Kerberos password is over a year old, you will be required to change it during the certificate renewal process. Choose a strong password. Consider using LastPass to save passwords and increase your online security.
CertAid can be used to quickly install new certificates for Chrome, Internet Explorer, and Safari. Please note that CertAid has been updated this year to require Duo two-factor authentication as part of the certificate installation process. If you have a previous version of CertAid (older than 2.2.5), be sure to download the most current version. For Firefox, go to the Get an MIT Certificate page to manually install a new certificate.
Once you install new certificates, deleting your old ones may help you avoid problems accessing sites and resources. CertAid will prompt you to delete these old certificates after the new ones have been installed. IS&T recommends deleting your old certificates unless you use S/MIME to sign or encrypt emails, in which case you should not delete them.
Having a valid certificate is the first step in verifying your identity via MIT's Touchstone authentication service. The second step is provided through Duo two-factor authentication. To access MIT's secure online spaces, you need both a valid certificate and a device registered for use with Duo.
If you have any questions or concerns, contact the IS&T Service Desk.