MIT Life Hacks: eduroam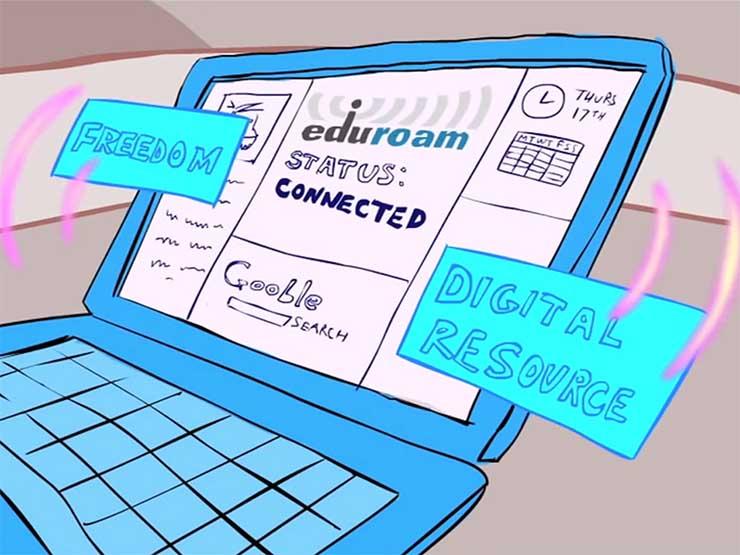 Visiting family for the holidays can be a nice relief from the fast-paced environment at MIT. Seeing your family can make you remember how much you miss mom's signature chicken parm, or the independent coffee shop you used to visit every morning.
Something you might not miss, though, is the slow Wi-Fi. Some relatives (or Wi-Fi providing restaurants) don't understand the importance of lightning-speed connectivity. Normally, you would make a hotspot with your phone, or go the cheaper route and hang out in a Starbucks.
But there's an even better option, no matter where you travel. With your MIT credentials, you can connect to university Wi-Fi around the world, for free, through a service called eduroam.
Named by splicing together "education" and "roaming," eduroam provides the research and education community with access to fast, secure Wi-Fi. It's as easy as typing in your @mit email address and Kerberos password.
Where is it?
Thousands of universities in the United States and 71 other countries are eduroam-enabled. American colleges in New York, Los Angeles, Dallas, Chicago, and many more cities offer the service. Campuses in Europe, Australia, China, and South America are also part of the consortium.
How do I connect?
eduroam's website has details about its secure roaming access service. Information Systems and Technology (IS&T) has some guidelines and walkthroughs in its Knowledge Base. The IS&T Service Desk can also help with issues.
So drink that coffee in your hometown – or abroad – while enjoying high-speed Wi-Fi access. eduroam can make all the difference. Life: Hacked