Find out about Pharos: MIT's free hold-and-release printing service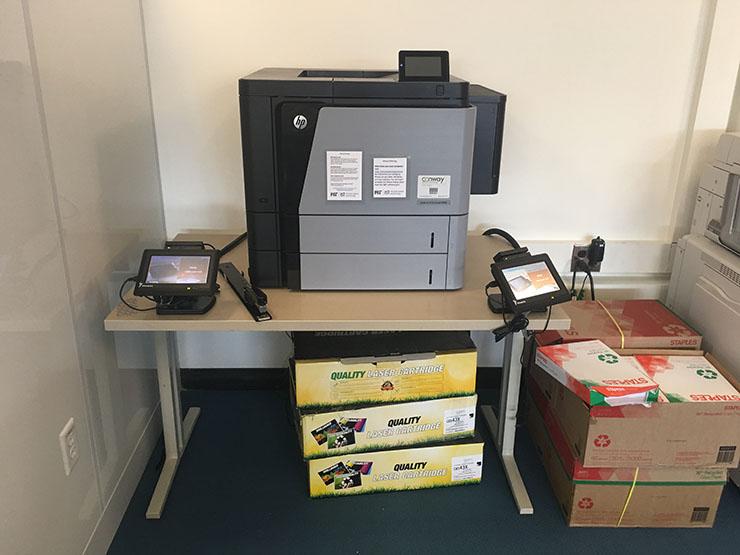 Pharos is not just one of the seven wonders of the world, it's also a free "hold-and-release" printing service at MIT. Pharos reduces waste by eliminating unclaimed print jobs.
While intended primarily for students, it's also available to all members of the MIT community. Affiliates who wish to use Pharos printing must first link their MIT ID cards to the Pharos system.
How it works
Normally when you print, you send the job directly to a printer. With Pharos, you send the document to a general print queue. You can then release the job at any Pharos printer on campus with your MIT ID card.
You can send print jobs to Pharos printers from Athena clusters or from work or personal computers. The Athena computers are already set up for Pharos, but you will need to install a client first on Macintosh, Windows, and Linux computers.
Most of the Pharos printers are in Athena clusters and dorms; some are available in the MIT Libraries and near Athena Quickstation kiosks. You can view a list of Athena clusters and printers on the Athena at MIT: Clusters page. The printers are black-ink laser printers, with the exception of the color printer in the Student Center (W20-575).
Quotas
The yearly allowance for Pharos printing is 3,000 pages per person per year; this quota is reset every June. While this page count is rarely surpassed, registered students who need to print more than that may do so.
Community members can check their page count at techcash.mit.edu. While the quota is managed through TechCash, there are no charges associated with using Pharos.
Guidelines and support
There are printing terms of service to follow when using Pharos. The community may use printers for academic and personal documents, but are asked to use a copy machine to make multiple copies of documents.
No Pharos print job should take longer than twenty minutes. It's best to break big print jobs into smaller parts and release them when the printer is not in high demand.
For more details, visit the MIT Pharos Printing Landing Page in the Knowledge Base. You can also contact the Service Desk for help with printing from an application on Athena or with setting up a network printer on your Mac or Windows computer.