Spring Cleaning: What happens to your MIT digital presence after graduation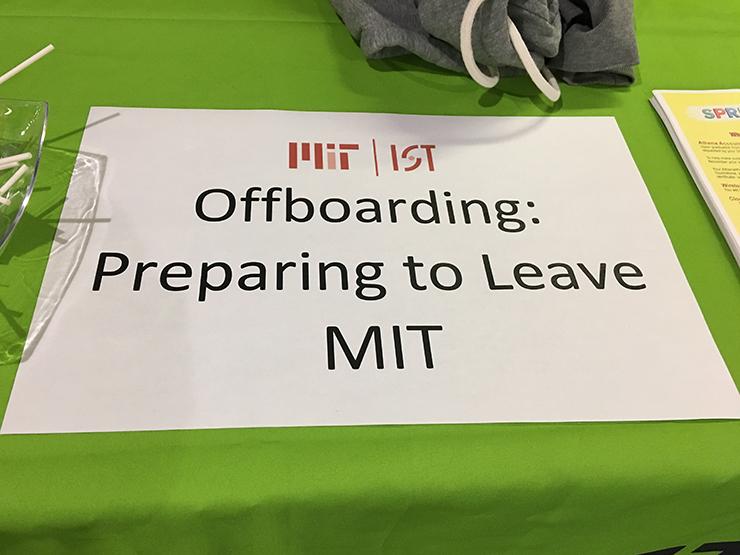 Graduating this spring? Congratulations! But this upcoming farewell also means that you have some digital spring cleaning to do. It's important to move any important emails, Dropbox files, or other electronic files you wish to keep to your own computer or hard drive before your accounts are deactivated. Information Systems and Technology (IS&T) recommends that you get a head start in doing this, since the process of offboarding for graduating seniors begins just a few months after graduation
Offboarding begins when your MIT account status is switched from student to affiliate. As an affiliate, you will have limited access to MIT online resources. Later, your MIT account will be switched from affiliate to deleted, completing the offboarding process. At this point, you will lose the ability to login to any of your MIT accounts, including email, Dropbox, and Athena accounts.
Email
Once the offboarding process is complete and your MIT accounts are deleted, your MIT email address will not receive email. If the @mit.edu email was forwarded to another address, neither will receive email sent to @mit.edu.
Be sure to move any important emails out of your @mit.edu inbox soon after you leave the Institute.
Graduates who wish to keep an MIT email address can set up an @alum.mit.edu forwarding for life (EFL) account through the MIT Alumni portal. Email sent to your new @alum.mit.edu address will be forwarded to a personal inbox you provide. For details, consult the email forwarding for life FAQ.
Kerberos and software
Once offboarding is complete, you will no longer be able to access the enterprise versions of online applications or software licenses you formerly accessed through your MIT Kerberos account. This includes everything that requires Touchstone authentication, including applications such as SOLIDWORKS and MATLAB. Depending on the software, you will either be moved to a standard license/account (often with usage limitations or a fee) or barred from using the software.
If you are interested in continuing to use an application after offboarding, browse that software's availability options for non-MIT users. You may be able to remove your @mit.edu address ahead of time and continue with a different type of account, separate from the MIT enterprise.
Dropbox
When your MIT account switches to affiliate status, your Dropbox account will be suspended. You will have no access to MIT Dropbox after you leave the Institute. Your Dropbox account will eventually be deleted along with your other MIT accounts.
Before you are moved to affiliate status, be sure to download all important files from Dropbox to a personal hard drive or storage space. Even if Dropbox syncs to your hard drive, all your files will be deleted if they are not moved out of the Dropbox folder and directly onto your computer's own storage. Downloading all your Dropbox files could take several hours, so give yourself enough time. Once the download is complete, you can rename the Dropbox folder on your computer and remove the Dropbox application.
This is also true of your AFS locker and any other cloud or digital storage spaces accessed through MIT Kerberos. All files stored this way will need to be moved to be preserved.
Websites, mailing lists, and shared AFS lockers
If you lead a student activity, course, MIT organization, or similar group with a website, mailing list, and/or shared AFS locker, you'll need to transfer ownership to a user who is remaining at MIT. If you do not transfer admin privileges before your offboarding, you and the rest of the group will be permanently unable to access and edit the content.
Here's how to set AFS locker permissions.
Webmoira lets you easily transfer ownership of a list yourself. Select the list you wish to transfer under the "Lists I Can Administer" section. Clicking the list's name will bring you to a page that allows you to add members, change owner, and leave the list. If you need more functionality, see the Knowledge Base (KB) article on administering Moira groups through the Athena command line.
For Drupal Cloud websites, send a request of ownership transfer to drupalcloud@mit.edu. The KB has more information about the deactivation process for Drupal Cloud websites.
GitHub and LastPass
Once your email and Kerberos accounts are deactivated, you will lose access to your GitHub information. To preserve your work, transfer your repository to another account. For help, see the GitHub Accounts After Graduation or Leaving MIT page in the KB.
Similarly, LastPass info will be lost in the process of offboarding, since you will be unenrolled from the enterprise version. To retain your passwords, you must save the LastPass data before offboarding. You can migrate your LastPass data from your enterprise account to a personal account once the two accounts are linked. You can also export your LastPass data onto your computer.
CrashPlan
Once your Kerberos account is deactivated, your CrashPlan account will also be deactivated. 30 days after deactivation, your backup data will be deleted.
Unfortunately, backups cannot be transferred from one CrashPlan account to another. This means you won't be able to access your MIT backups from a non-MIT individual CrashPlan account.
Microsoft Office and Windows
All graduating seniors will receive an email from IS&T with instructions for getting continued access to Microsoft Office and Windows after leaving MIT.
Support
Check out the Leaving MIT section of IS&T's For Students web page for guidance on digital offboarding from MIT. The KB also has in-depth information on how accounts will change during offboarding.
Contact the IS&T Service Desk with questions or for help with preparing for the digital offboarding process.