Tips for cleaning and disinfecting your devices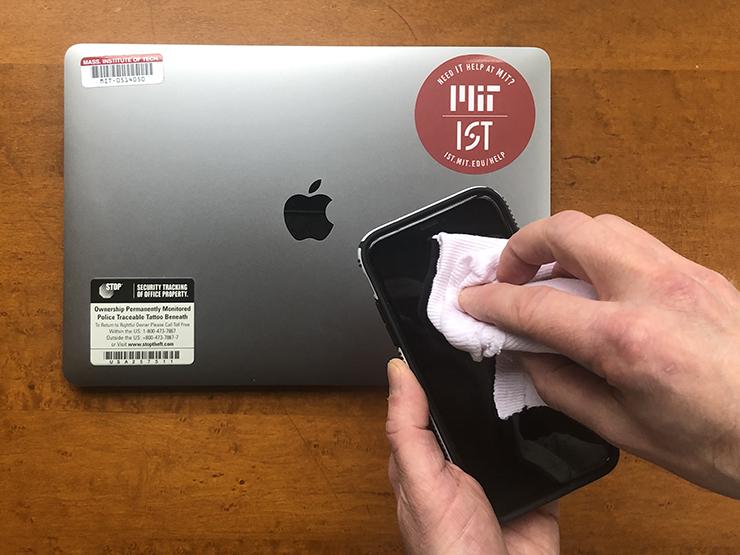 In addition to washing hands regularly and cleaning frequently touched surfaces to help stop the spread of COVID-19, many people are also interested in disinfecting their laptops, keyboards, and mobile devices.
In order to properly clean and disinfect your devices and peripherals, Information Systems and Technology (IS&T) strongly recommends that you follow the instructions provided by the manufacturer, usually found on their website. Most vendors have recently updated their guidelines in response to concerns over COVID-19.
Here are links to the cleaning and disinfecting guidelines from several major manufacturers:
In addition, IS&T's Service Desk reminds you of the following:
Do not use harsh cleansers, such as ammonia, bleach, or hydrogen peroxide, which can damage screens and other components.
Do not spray or apply liquid directly onto your device.
Thoroughly wring out cloths or cleaning wipes before using to ensure that no moisture will seep into your device.
If you are concerned about using alcohol-based solutions on your devices, a few drops of mild soap diluted in a bowl of warm water can be an effective virus-killing alternative.
Following these tips and the vendors' instructions will allow you to properly clean your device without risking damage.
If you have questions about cleaning and disinfecting your computer or mobile device, contact the IS&T Service Desk.
Visit the MIT COVID-19 website for the latest on the Institute's response to the COVID-19 emergency.
Get the most up-to-date information on COVID-19 and answers to common questions from MIT Medical.
Keep up with the latest enhancements to IT services at the Institute by visiting IS&T's COVID-19 Updates page.