Tips for cleaning and disinfecting your devices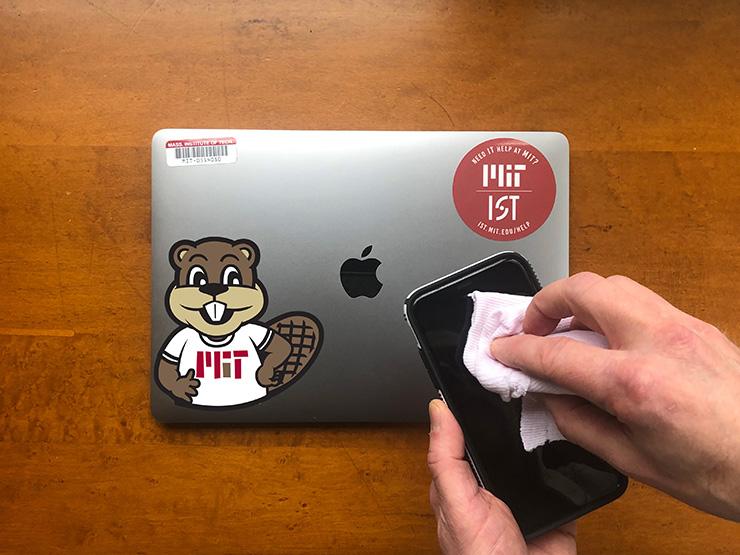 Unless your phone or computer is brand new, odds are it could use a cleaning. Over time, the screen, keyboard, and case typically get covered in fingerprints, food, and funk. If it's been a while since you've spruced up your devices, there's no better time than the present!
Follow the manufacturer's instructions
In order to properly clean and disinfect your devices and peripherals, Information Systems and Technology (IS&T) strongly recommends that you follow the instructions provided by the manufacturer, usually found on their website. Here are links to the cleaning and disinfecting guidelines from several major manufacturers:
Dos and don'ts
In addition, IS&T's Service Desk reminds you of the following:
Do not use harsh cleansers, such as ammonia, bleach, or hydrogen peroxide, which can damage screens and other components.
Do not spray or apply liquid directly onto your device.
Thoroughly wring out cloths or cleaning wipes before using to ensure that no moisture will seep into your device.
If you are concerned about using alcohol-based solutions on your devices, a few drops of mild soap diluted in a bowl of warm water can be an effective alternative.
Following these tips and the vendors' instructions will allow you to properly clean your device without risking damage.
Computer repairs
If you are experiencing hardware problems beyond a dirty screen or keyboard, the IS&T website has information about computer repairs including instructions for initiating mail-in repair requests for Apple, Dell, and Lenovo laptops and tablets.
If you have questions about cleaning and disinfecting your computer or mobile device, or anything else tech-related, contact the IS&T Service Desk.