DocuSign streamlines the paper chase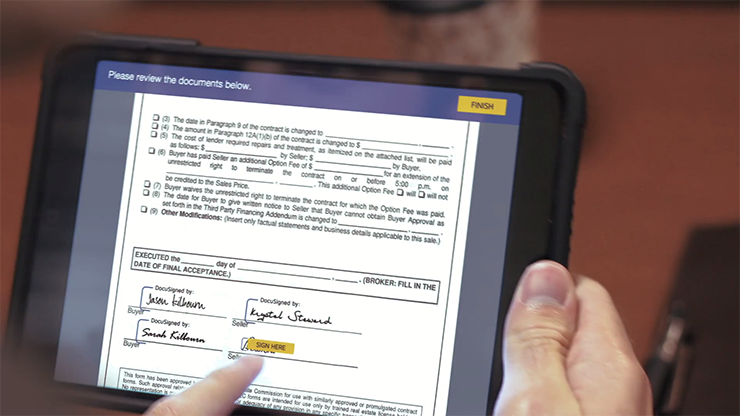 Does your department, lab, or center (DLC) frequently use forms that require signatures – for example, contracts or student waivers? Then a service called DocuSign can ease your paper chase. Information Systems and Technology (IS&T) licenses DocuSign for Business for use by the MIT community.
What is DocuSign?
DocuSign is a platform that lets you send, sign, and track agreements securely from virtually any device using electronic signatures. It can be used on desktops and laptops and on the go from an iPad, iPhone, Android, or Windows device.
DocuSign supports many document types, including Microsoft Word, Excel, and PDF, and integrates with Dropbox. All documents are stored in DocuSign's cloud, providing an audit trail of signatures. For a quick demonstration, see the DocuSign: How It Works video.
Key features
Setting up a template is the most common way to create your document in DocuSign. You can upload one or more files to a template through your local machine or from one of your authorized cloud storage providers (Box, Dropbox, GoogleDrive, and OneDrive).
You can use DocuSign's 20+ standard tags and fields or create custom tags and fields. When uploading a PDF, DocuSign will automatically convert PDF form fields to signer fields.
DocuSign also lets you generate self-service documents (e.g., PowerForms) for signature and create supplemental documents that include additional information for signer acknowledgment, such as terms and conditions.
In terms of routing, DocuSign lets you:
Specify your recipients (signers) and assign them different roles and actions such as "Needs to Sign" or "Receives a Copy"
Easily send documents to one recipient or multiple recipients
Define document routing to allow recipients to sign in order or to sign at the same time
DocuSign's Reports feature lets users and administrators view document, recipient, status, and completion information and contains near real-time data.
Signing up
MIT's DocuSign for Business is Touchstone-enabled. You can create an account by going to http://docusign.mit.edu and logging in with your @mit.edu email address.
For detailed activation instructions, see the Knowledge Base article: How can I begin to use DocuSign?
Legal considerations
MIT maintains strict controls on signing authority: only certain persons at the Institute are allowed and have the authority to sign contracts and other documents that legally bind the Institute. If in the course of your work at MIT you are asked by someone, inside or outside the Institute, to sign a contract or legal document, contact the Office of the General Counsel to determine if you have appropriate authority.
These same rules apply to DocuSign. Check first with the Office of the General Counsel before using DocuSign for contracts or legal documents that purport to be binding on the Institute.
Resources and support
To learn more about DocuSign, see the DocuSign FAQ and the MIT DocuSign Landing Page. DocuSign has also created short videos on a number of features.
To receive announcements about DocuSign at MIT, sign up for the Mailman list at docusign-announce@mit.edu. If you have questions or need assistance, contact the IS&T Service Desk.