Incoming students: Prepare for remote learning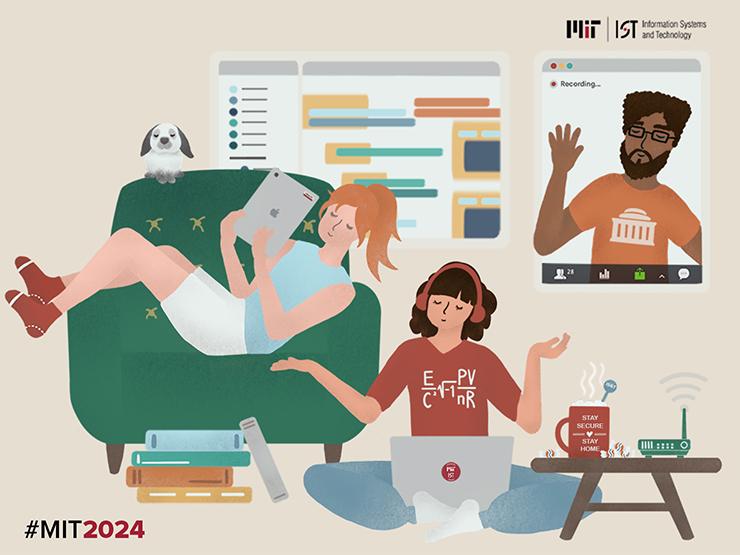 Illustration: Runming Dai
Learn how to be digitally secure at MIT in our previous article Get useful software and cloud services.
It won't be long now until you incoming MIT students start your academic careers at the Institute. Since learning will take place remotely this fall for the majority of you, Information Systems and Technology (IS&T) would like to share some tips and resources to support, enhance, and secure your remote learning experience.
Manage your bandwidth
As we plug more and more devices into our home networks, the increased demand on the limited bandwidth your connection provides can can slow down your activities. This article in the IS&T Knowledge Base (KB) has suggestions for choosing the best connection type, minimizing bandwidth bleed, and generally speeding up your network.
Secure your network
In addition to protecting your computer and mobile devices, don't forget about securing your home network! This IS&T article walks you through simple steps you can take to be cybersecure as you work and study away from the MIT campus, including how to practice safe video conferencing.
Get key software and services
As an MIT student you have access to many useful software packages and cloud-based services for no charge. Be sure to download, activate, and familiarize yourself with many of the tools you will need to learn and collaborate remotely, such as Microsoft Office, Dropbox, and Zoom.
Learn about learning management systems
You should also be aware of the two learning and course management systems in use at MIT which you will be asked to use as part of your coursework:
Canvas is a modern easy-to-use cloud-based learning management system in use across the Institute which is integrated with a number of popular tools such as Zoom.
Stellar / Learning Modules (LMOD) is the Institute's legacy learning platform that is still used by some instructors.
Get loaner equipment
If you lack some of the hardware necessary for remote learning, IS&T maintains a limited pool of computing equipment available for loan to MIT students. These include laptops, iPads, WiFi hotspots, and peripherals. Visit the Computing Equipment Loan Program page on the IS&T website to learn what equipment is available to you and how to request it.
Remote learning resources and help
MIT's learnremote.mit.edu website is a great resource for remote learning information at the Institute and best practices.
If you have any technical questions about remote learning, or anything IT-related at MIT, you can contact IS&T's Service Desk for help 24 hours a day, 7 days a week. Also be sure to follow IS&T on Twitter, Facebook, Instagram, and Snapchat to get important news and updates about IT services at MIT.