Recycling IT equipment at MIT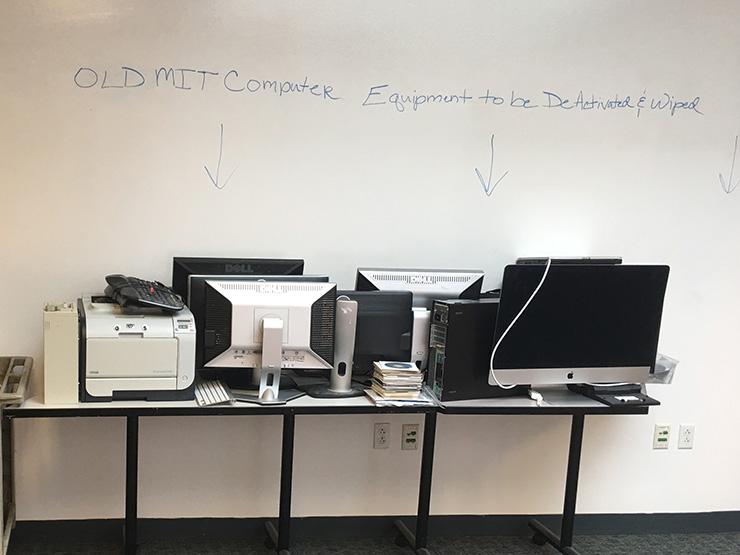 Spring is a great time to recycle your department, lab, or center's (DLC) obsolete or surplus IT equipment. Old, damaged, or unwanted computers and peripherals can be safely recycled to free up office space in a responsible way. Read on to find out what's involved.
Media sanitizing
Before you recycle or donate a computer, you must to wipe the hard drive to ensure that it doesn't contain sensitive information. MIT's recycling and donation programs do not erase the contents of the hard drives they receive.
The Knowledge Base has detailed information about effective media sanitizing.
Deactivation
The MIT Property Office keeps complete records of computers issued to community members. MIT-owned machines over a certain value have barcodes for identification purposes. The threshold for tagging computers, laptops (including iPads), and servers is $1,000. Displays and printers are not tagged unless they are $3,000 or more.
Before a computer with a barcode can be recycled, the Property Office must issue a deactivation tag. This removes MIT's accountability over the device and updates records accordingly. If you move to another DLC or leave MIT, the Property Office must be notified.
To arrange for deactivation tagging, please email the MIT property tag number of the item in question to property@mit.edu. If the barcode is unreadable, please include the manufacturer, model, and serial number.
Note that even if the device in question is at the end of its life cycle, it needs to be marked as deactivated.
Recycling
The MIT Department of Facilities offers free recycling services for deactivated computers and other MIT-owned IT equipment. Removal of equipment from Institute buildings is coordinated through its Recycling and Materials Management Office. Basic recycling services are free, but if a piece of electronics requires special equipment to remove it, then an outside company is brought in at the DLC's expense.
Faculty and staff can request this free service through Atlas. Students who live on campus and would like to use this service must go through their house manager.
The Recycling and Materials Management Office has also placed TechnoCycle bins in most of the Distributed Mail Centers (DMCs) and residence halls. You can use these bins to drop off small MIT-owned IT equipment for recycling. This includes items such as CDs, keyboards, cables, hard drives, and laptops. The DMCs also have bins for battery and plastic film recycling.
More information on what can be recycled in the TechnoCycle and battery bins can be found on the Facilities Recycling website or you can email any questions about recycling at MIT to recycling@mit.edu.
Donation
If you have MIT-owned computer equipment that's still in good working condition, rather than recycling it, you can use MIT's online resource Rheaply to offer it for free to other DLCs.
Log in to the Rheaply website using your MIT email address to create a listing for your surplus item(s). Listings can include pictures.
Community members can also submit requests for specific items on Rheaply. Click Requests to see if someone is looking for the hardware you no longer need.
Enroll in DLC Direct
To make tech disposal easier in the future, enroll in IS&T's DLC Direct service. This service, which is free of charge to all DLCs at the Institute, provides support for the full lifecycle of enrolled computers, including retrieval, deactivation, wiping, and disposal. The IS&T website has all the details.