Beware of IRS-impersonation phishing scams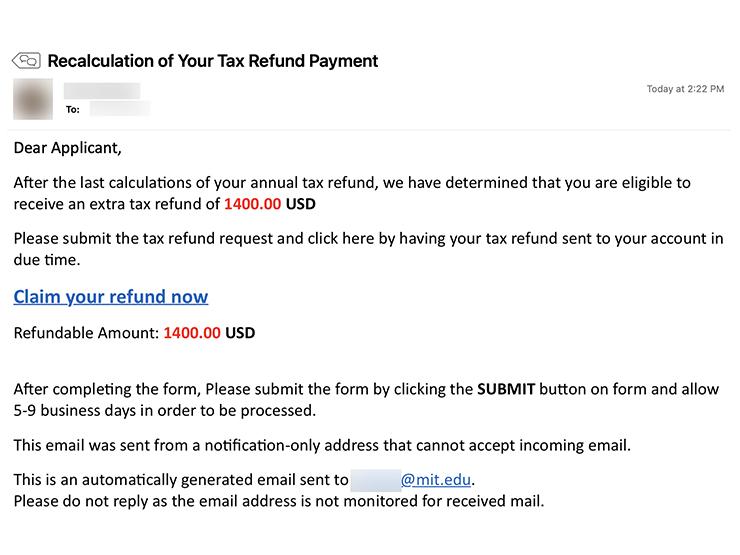 Information Systems and Technology (IS&T) warns everyone to beware of email scams that appear to come from the Internal Revenue Service (IRS).
The IRS has recently received a number of complaints about phishing emails targeting college and university students and staff. The suspect emails display the IRS logo and and use various subject lines such as "Tax Refund Payment" or "Recalculation of your tax refund payment." It asks people to click a link and submit a form to claim their refund. The phishing website requests tax payers provide personal information such as name, date of birth, Social Security Number, and address.
If you receive such an email, do not click on the link! Instead, report it (or any scam emails) to IS&T's Security Team by forwarding the email as an attachment to phishing@mit.edu.
Remain vigilant
IS&T encourages individuals to avoid clicking on links in unsolicited emails and be wary of email attachments. Also, do not reveal personal or financial information in email and do not respond to email solicitations for this information.
Additional resources
The IS&T article Learn how to avoid a phishing scam explains how to identify, avoid, and protect yourself against phishing scams.
The MIT Phish Bowl has examples of recent phishing emails targeted at MIT.
Read up on common email scams in the IS&T Knowledge Base.
If you receive an email you aren't sure about, please don't hesitate to contact the Security Team at security@mit.edu.