Best practices for collaborating remotely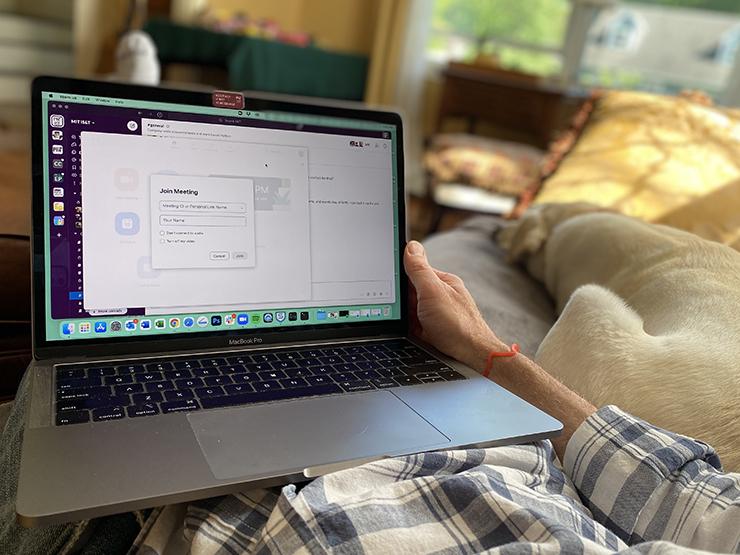 MIT has licensed a number of tools for use by community members that enable remote working and collaboration. In addition to taking a number of security precautions when working remotely, Information Systems and Technology (IS&T) also recommends that faculty, staff, and students adopt a set of best practices when collaborating with others away from campus. Following these tips will make remote working and collaboration as secure and seamless as possible.
Message and chat via Slack
Slack Enterprise Grid is a messaging and collaboration platform. MIT faculty, students, and staff are eligible to join existing Slack workspaces or create new workspaces for their department, team, or group. Slack users can direct message other users at MIT or create conversation channels for topics, projects, and groups. Conversation histories can be searched to find relevant messages, files, channels, and people.
MIT Slack channels can even be connected to external Slack workspaces, and non-MIT partners can be invited to participate in MIT Slack channels as guests.
Host virtual meetings
Community members can choose from several MIT-approved and licensed enterprise video conferencing tools to host video and audio conferences with remote coworkers. Zoom, Microsoft Teams, and Webex are available for use, while Slack also supports video and voice meetings. Using these platforms, participants can join from any device, including smartphones and tablets, with a supported browser. They can also share files, applications, or their entire screen with other attendees.
Zoom and Webex both also support Personal Rooms, which are dedicated virtual conference rooms with permanent URLs that let you meet with others without having to schedule a meeting ahead of time. When you're "in" your room, others can "enter" to meet and collaborate with you.
Manage and share files using cloud storage
MIT has licensed a number of cloud storage and collaboration services for use by all members of the community, including Dropbox, Google Drive, and Microsoft OneDrive. Storing your files in these cloud services enables you to access them seamlessly from any computer or device. They make it easy to share files and entire folders with individuals or groups of coworkers. You can even set passwords or expiration dates for shared links to provide extra security.
Collaboratively edit documents in the cloud
Cloud storage platforms licensed by MIT also offer collaborative, real-time document editing tools. Dropbox Paper, Google Drive, and Microsoft OneDrive allow multiple people to view and edit documents simultaneously. These platforms also offer varying levels of user permissions (e.g., Read Only, Comment, Edit) as well as version histories, so you can see changes and roll back to earlier revisions of a document.
Safely share passwords using LastPass
LastPass Enterprise is a password management system licensed by MIT for use by community members. In addition to making it easier to generate and recall secure unique passwords for each website and application you use, LastPass is also a secure way to share passwords with coworkers in different locations. With LastPass Enterprise you can share single passwords or entire folders of passwords with other users securely. IS&T does not recommend sending passwords via email or text.
Other ways to collaborate remotely
MIT has licensed numerous other tools for remote collaboration, including
Panopto: A secure cloud video platform for recording, editing captioning, storing, streaming, and sharing videos and multimedia presentations.
Explain Everything: A digital whiteboard app for writing, sketching, and interacting with images and video together with collaborators in real time, presenting live to an audience, or recording and narrating a session for sharing later.
The IS&T Knowledge Base has a full list of the remote access and collaboration tools available to MIT community members.
Additional resources
The IS&T website has more information, resources, and best practices for remote working.
If you have questions contact the IS&T Service Desk.